SCIBS open for business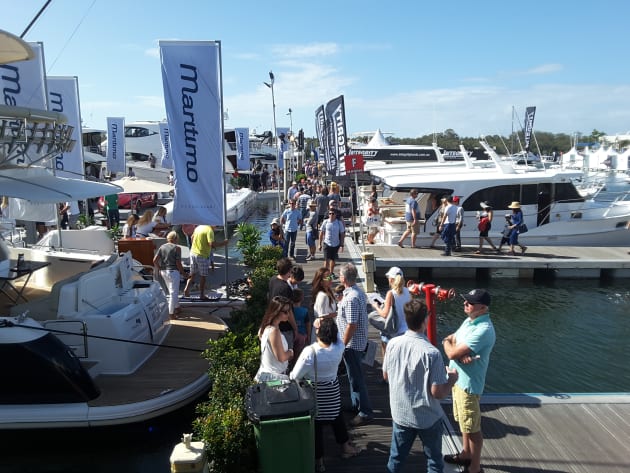 Exhibitor applications now open for the 2017 Sanctuary Cove boat show.
The 2017 Sanctuary Cove International Boat Show (SCIBS) is now open for exhibitor applications to take part in its 29th edition, running from May 25 to 28 next year.
Exhibitors at this year's show have a two-week window from 9 November 2017 to secure their preferred position throughout The Marine Village.
SCIBS general manager Johan Hasser said feedback from exhibitors had been extremely positive and their suggestions would be key to enhancing the 2017 show.
"Every year we aim to improve on the success of the previous year's show. For 2017, we have taken on board feedback from our exhibitors and visitors as to what elements of the show worked best and what they would like to see more of," he said.
"Visitors enjoyed the concept of 'shows within the Show', which represented great value for money for ticket holders. Next year's show will be the place to see the big names in all segments of boating and marine, from trailerable craft to catamarans, from sailing boats to superyachts and everything in between.
"Added to this will of course be a full family-friendly entertainment schedule, boating education events and the return of the Women on Water program, making it the Boat Show that has something for everyone."
For the seventh consecutive year, the Australian Superyacht & Marine Export (ASMEX) Conference will return to Sanctuary Cove in the two days prior to SCIBS.
"The ASMEX conference provides our exhibitors with a great prelude to SCIBS. It's an invaluable networking opportunity for exhibitors in all areas of industry and we're very happy to again be hosting ASMEX in its eighth year," said Hasser.
SCIBS sales and exhibition manager, Dominic O'Brien, said demand across all display areas has prompted a review and expansion of several key precincts, including The Boatyard and spaces on the marina and pavilions, which sold out early for SCIBS 2016.
"The Boatyard precinct struck a chord with exhibitors in the trailerable boat segment and will be expanded to The Docks precinct in 2017 to accommodate this demand," he said.
"Other changes include an additional 300sqm of space in the Superyacht & Marine Pavilion, with extra space outside for exhibitors wishing to take advantage of traffic through the Marine Village.
"Then there's the additional berths on the marina and more interest from superyachts for next year's show."
Maritimo founder and industry icon Bill Barry-Cotter has been involved in every SCIBS since its inception and says that involvement will continue with Maritimo planning a large on-water display including the first S70 sedan cruiser.
"The Sanctuary Cove International Boat Show has a reputation nationally and internationally that cannot be beaten and in 2017, Maritimo will again have a major investment in the show," he said.
"People come to Sanctuary Cove for the atmosphere, to view the very latest boats and all things marine and to enjoy the whole package and that includes the shops, the restaurants, the hotel, the Village ambience, the whole thing. It is unique and will stay that way."
For more information, or to register as an exhibitor, visit the website or phone the Boat Show office on +617 5577 6011.