SailGP spectacular ready to hit Sydney Harbour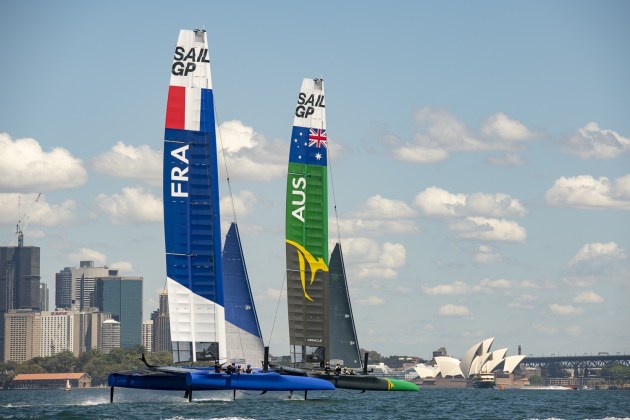 Six team championship series will see fastest cats do battle this week.
The inaugural SailGP race series is set to put on a spectacular show on Sydney Harbour this week with the six national teams - Australia, China, Great Britain, France, Japan and the US – competing in identical, 2,400kg supercharged F50 catamarans capable of reaching speeds of up to 100kph (50+ knots).
Billed as the fastest and most technologically advanced class of race boat in the world, the F50s have set up base at Cockatoo Island on Sydney Harbour from where they will compete in a series of races on Friday and Saturday this week.
In the lead-up to the races, the teams have be practicing on the Sydney Harbour course located between Bradley's Head and Shark Island.
"The F50s all lined up next to each other is certainly a sight – Sydney Harbour feels tiny when you're sailing just one of these boats, so with six all lined up and racing together, it's going to be a spectacle, that's for sure," said Australian skipper and Olympic gold medallist Tom Slingsby. "There'll be thrills, spills and intense, exciting racing, and we'll be fighting hard to give our home crowd the result we know this Australian team is capable of."
The six national teams will be easy to spot with their distinctive liveries; Australia's boat is emblazoned with a giant kangaroo, the Australian flag, and green and gold paint, while China's F50 features a fire-breathing dragon and the US boat sports the stars and stripes.
To follow the action away from the Harbour, the races are being broadcast on Fox Sports in Australia and SKY Sport in New Zealand. There's also an app for use on all Apple iOS devices which will allow users to view live data and video (subject to regional restrictions), track performances, compare athletes, change viewing angles, zoom in on the action and watch replays, as well as compare two teams side-by-side on a split screen.
The live stream is combined from 11 feeds available via helicopter, drone, and on-water and onboard cameras, displayed alongside key race statistics.
"We really wanted to challenge ourselves with how we present the content and data coming off the boats and show it in a way that truly enhances the fan experience and allows them to be as much a part of the racing as possible," said SailGP CEO Russell Coutts.
"This is the first time the data and live streams are available to everyone – fans, teams, broadcasters, coaches and race management – and we really hope it will attract new people to the sport, educate emerging fans and generally make SailGP interesting for a wide range of people."
Hear what the skippers had to say after the first day of SailGP race practice.