Safe port in a storm? Think again.
Changing pattern of storms leave 'safe' coastal areas vulnerable.
New research l

ed by engineers at University of New South Wales (UNSW) in Sydney, and published in the latest issue of Nature Scientific Reports,

reveals that coastal areas and infrastructure that were previously thought to be protected from storm damage may now be vulnerable.

The increased risk is due not just to rising sea levels or the increased ferocity of storms due to climate change but also the fluctuating patterns of the storms themselves.

"If you have waterfront property or infrastructure that has previously been sheltered from the impacts of extreme waves, this is worrying news" said Mitchell Harley, lead author of the study and senior research associate at UNSW's Water Research Laboratory (WRL). "What this study confirms is that simply by changing direction, storms can be many times more devastating. And that's what we're facing in many locations as the climate continues to change."

The study relied on data collected during the 'superstorm' that hit Australia's eastern coast last June causing widespread destruction from Queensland to Tasmania. Despite the devastation it brought, including major damage at Coffs Harbour Marina, the storm was classified as only moderately intense, equivalent to a 1-in-5 year event. What amplified its effect however, according to the researchers, was that it hit from an easterly direction.

"And that's what's really worrying," said Ian Turner, WRL director. "The damage we saw from a moderately intense storm last year is a harbinger of what's to come.

"Climate change is not only raising the oceans and threatening foreshores but making our coastlines much more vulnerable as the direction of incoming storms change.

"We need to be prepared," he added. "Not just for the fact that what we consider as 'king tides' will be the norm within decades, but that the storms that strike the coast will come from unexpected directions, damaging coastal areas and infrastructure once thought safe from storm damage."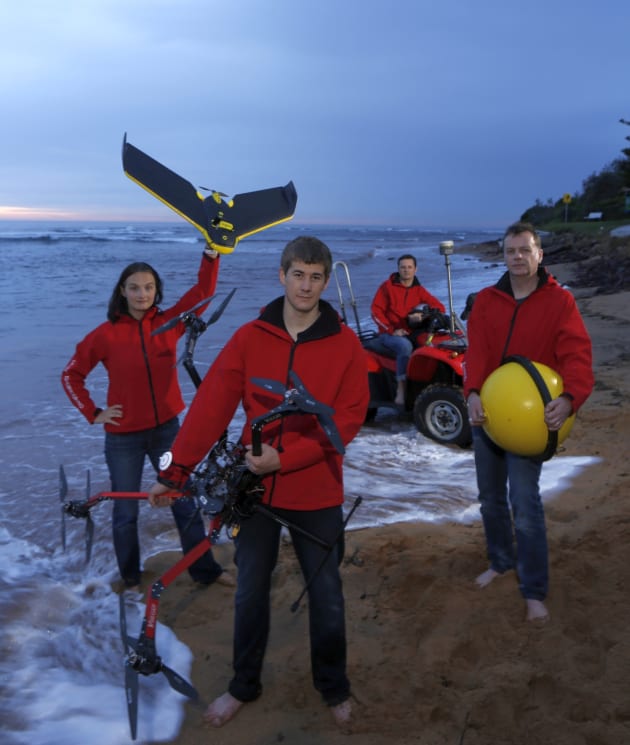 Filling the MCG
In the week before the storm hit, and for many weeks afterwards, researchers along a 200km stretch of the coastline used a fleet of drones, floating sensor buoys, aircraft fitted with LiDAR laser ranging sensors, fixed cameras on buildings, plus quad bikes and jet skis fitted with real-time satellite positioning to produce the largest and most detailed pre- and post-storm coastline analysis ever done.
This revealed that 11.5 million cubic metres of sand were eroded from beaches in just three days of the storm – the equivalent of filling the Melbourne Cricket Ground to the brim with sand more than seven times.
This was similar to the amount of sand shifted on the US east coast by Hurricane Sandy in 2012, the largest Atlantic hurricane on record, which killed 233 people and caused US$75 billion in damage.
"When it comes to severe weather, a lot of the attention is paid to tropical storms like cyclones and hurricanes," said Harley. "But this data highlights the amount of coastal damage that can occur with east-coast lows in Australia."