SA Boat Show offers two shows in one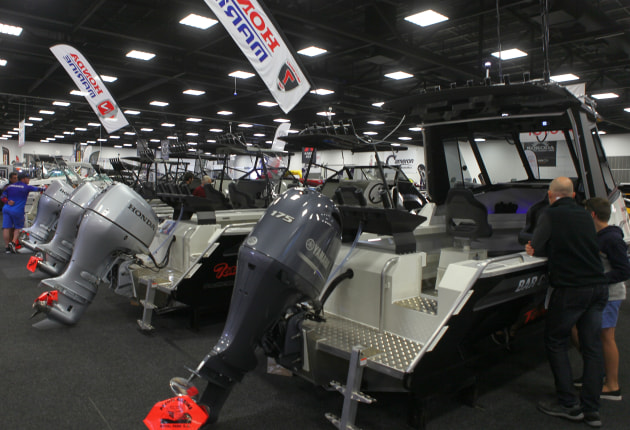 Popular boating show returns in Adelaide alongside the 4WD and Adventure Show.
The Club Marine SA Boat and Fishing Show is returning to Adelaide Showground this year in conjunction with the 4WD and Adventure Show, promising a line-up of top boating brands for the South Australian boating public to enjoy.
This year the show will again feature the latest products in trailerboats, ski boats, fishing boats and tinnies, plus kayaks and canoes, electronics and navigation, dive gear and fishing tackle. The show also features lifestyle entertainment, including the popular Fishing Forum information stage and boat license testing held during the show.
Show director Peter Woods said the show is always popular for the boating industry, with many loyal exhibitors returning year after year.
"The Club Marine SA Boat & Fishing Show is well respected within the boating industry. The show is always well attended by major brands exhibiting their latest products."
"The 4WD and Adventure Shows are famous for being the place to go for all the latest gear. Camper trailers, caravans, new model SUVs and 4WDs, camping gear, 4WD accessories, fishing gear and so much more," he said.
"The 4WD and Adventure Show and Club Marine SA Boat and Fishing Show is designed so that you can spend the day checking out all the new products and grabbing yourself a bargain, but at the same time there's a huge variety of entertainment to keep you busy."
The most popular attraction at the show is the Fishing Stage which runs all weekend long featuring a cast of presenters on stage offering their best fishing tips, travel info, new product info and more.
The stage is hosted by fishing journalist and blogger Paul Carter who will also broadcast his live fishing show from the stage. He will be joined by well known presenter Kaj "Bushy" Busch, well known as Squidgy soft plastics co-founder, who will be at the show all weekend talking about lures and sharing some of his own fishing stories.
The Fishing Stage will also welcome Engel ambassador Emma George, who is a keen angler herself and has plenty of tips to share on fishing with kids. A former Olympian champion pole-vaulter and mum of three boys, she runs her own social media "Love the Outdoors" and encourages families to get out and enjoy the outdoors.
Another important part of the show is the Boat License Testing made possible by the Department of Transport Marine Operations. Those looking to get a boat license can attend an information session and sit the test at the show on Saturday 27 October and Sunday 28 October at 11am and 2pm. Each information session lasts one hour followed by examinations in the boat license exam room.
Other attractions include special guests Jase Andrews, All 4 Adventure, Allan Gray and Jillaroo Jess, Terrain Tamer TV on the Engel Bush Camp Stage, Isuzu Team D-Max stunt rides, Land Rover Terrapod, ARB Recovery Demos, Wilbur's Wildlife Displays and more.
Show details
The Club Marine SA Boat and Fishing Show and Adelaide 4WD and Adventure Show will be held at Adelaide Showground from Friday 26 to Sunday 28 October.
Friday 26 October: 9.00am – 5.00pm
Saturday 27 October: 9.00am – 5.00pm
Sunday 28 October: 9.00am - 5.00pm
Tickets: Adult $18; Concession (pensioner & student) $14; Children (up to11yrs) Free; Children (12-15yrs) $9; Family (2 adults + 4 children) $40.
More information on the website.