RTM backs world speed record attempt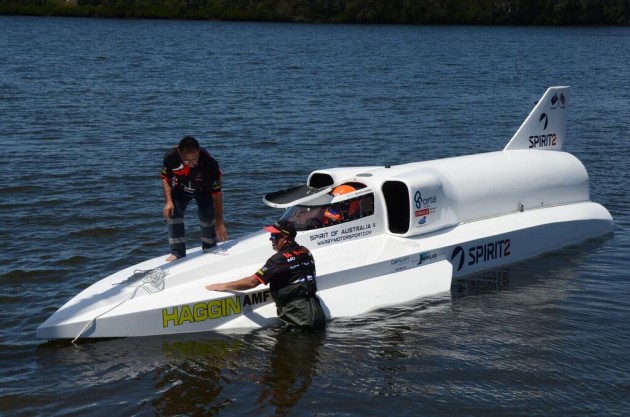 Boating retailer teams up with Warby family in bid to break long-standing speed record.
Boating retailer Road Tech Marine (RTM) is getting behind a local bid to set a new world water speed record due to be attempted by David Warby, the son of Ken Warby.
David Warby will set out to break his father's 40-year record of 317mph (511kmph) in December 2018 on Blowering dam, NSW.
Ken Warby is currently the only man in history to design, build and drive a boat to an outright unlimited world water speed record. He is also the only man alive to ever hold this record. David's ambition is to not only beat his father's record but to achieve 560kmph and become the new world record holder.
RMT has come on board to support Warby Motorsport and is supplying a lot of the materials required in order to build and maintain the boat.
As a specialist boat craftsman, Dave Warby said he looked to engage partners with synergetic views. RTM is a specialist marine technology store which carries many of the parts and specialist equipment the team requires for the jet-boat, SPIRIT2. The local RTM store in Newcastle is frequented regularly by the team in a bid to ensure all safety measures are met and modifications can be made.
"It's all about slowly building up the speeds and continuously testing the boat and her responses to our modifications as we push her faster. RTM bring an extra level of expertise, trust and network to our team to ensure safety during speed trials," said Dave Warby.
RTM was founded in 2013 by Gary Johnston following the success of his Jaycar specialist electronic stores.
"I watched intently when Ken Warby crucified Donald Campbell's record back in '77 and set the current world record in '78. I am now delighted to come onboard as a major sponsor with RTM," said Johnston.
"RTM specialises in providing solutions for all marine expedition and road-trip needs and we do mean all, having developed specialist solutions for the record attempt with SPIRIT2."
Ken Warby said the backing of RTM was a definite boost for the team.
"The RTM crew really are the best fit technically for the boat and team, adding a range of safety and measuring instruments to keep Dave and the team safe in the bid. As his Dad, I'm pretty happy with that!"
Warby and the team have four more trials runs at Blowering Dam in 2018 before showcasing the boat at the Sydney International Boat Show, followed by the world record attempt in December.