Riviera Festival moves to Sanctuary Cove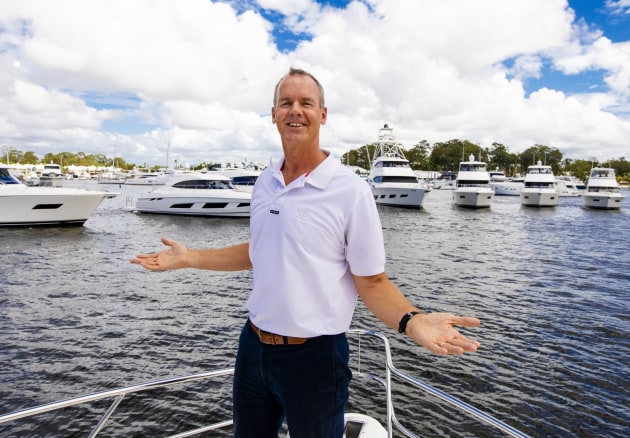 SCIBS to host boat manufacturer's annual Festival of Boating event.
Riviera Australia has announced that it is moving its Festival of Boating event to the Sanctuary Cove International Boat Show (SCIBS) this year where it will be held as part of the company's exhibit.
The festival has previously been held at the company's manufacturing base at nearby Coomera simultaneously with SCIBS, including for several years when Riviera did not exhibit at the show.
Riviera said it also plans to use the show to stage four world premieres of new models as part of an 11-boat line-up located at the end of the Sanctuary Cove Marina's Pier F.
Riviera owner Rodney Longhurst said that, as part of the festival, the customary Riviera and Belize seminars would be held at the nearby InterContinental Sanctuary Cove Resort as well as onboard the Riviera Motor Yacht Club and multiple yachts on the water. 
"Sanctuary Cove offers our guests and Riviera and Belize owners an incredible array of venues to experience the boating inspiration, education and fun that the Festival of Boating has become famous for," he said.
Riviera team will be presenting educational seminars and hands-on workshops with new content reflecting owners' specific interests and the latest technology onboard Riviera and Belize motor yachts.
SCIBS general manager Johan Hasser said Riviera's decision to host its festival and multiple world launches at Sanctuary Cove was a huge boost for the event.
"We are thrilled that Rodney and his team have chosen SCIBS as the venue for the 2019 edition of the Riviera and Belize Festival of Boating," he said.
"The Festival has a proud history and we look forward to working with Riviera to ensure that its future is just as bright at Sanctuary Cove."
Online registration for all Riviera and Belize Festival of Boating events is open to Riviera and Belize owners at www.FestivalOfBoating.com. Tickets and spaces are limited.