Riviera awards top local dealers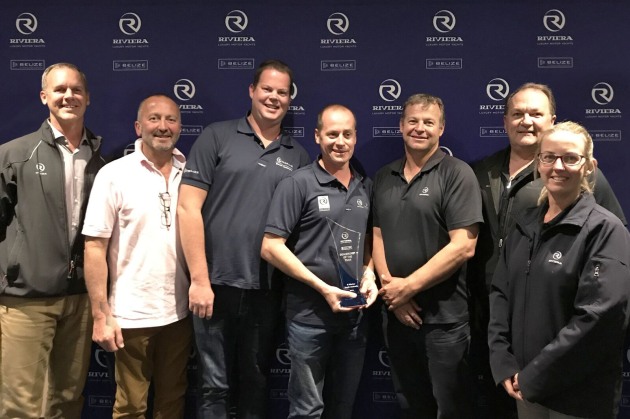 Top ANZ Riviera dealers recognised at Sydney boat show.
Riviera Australia has recognised its top dealers in the region at a ceremony held during the 2018 Sydney International Boat Show.
Top dealer in the R Marine Dealer network for 2017-18 was R Marine South Australia which took home the coveted Dealership of the Year award. Dealer principal Paul Harrop accepted the award on behalf of his team.
"I am immensely proud of the team I lead," he said. "They have all been with us for many years and are dedicated to providing the very best service possible to our clients. Put simply, we care. I believe that is why we have won this award for six of the past seven years."
The Service Excellence award went to R Marine Jacksons, the Sales Excellence award to R Marine Flagship based in Auckland, and the Outstanding Individual award was presented to Ben Croft from R Marine Jones.
"We are obsessive about the Riviera and Belize owner-care experience," said Riviera owner Rodney Longhurst. "Our annual awards reflect our dealerships' comprehensive owner commitment.
"From pre-purchase through to delivery, the handover process through to warranty and service performance are key contributors towards our awards. Equally, continual owner education on boat handling, technical systems operation as well as the conducting of our very popular cruise-in-company events all play a critical role in our awards.
"The team at R Marine South Australia has demonstrated excellence in every element of their activities centred on their owner experience.
"We care deeply about our owners' investment in their Riviera or Belize luxury motor yacht and their complete boating experience. We greatly value their feedback as we strive to become an exceptional company that our owners revere and know that they can depend upon."
The R Marine network represents the Riviera and Belize marques exclusively throughout Australia and New Zealand.