Rivergate set for super superyacht season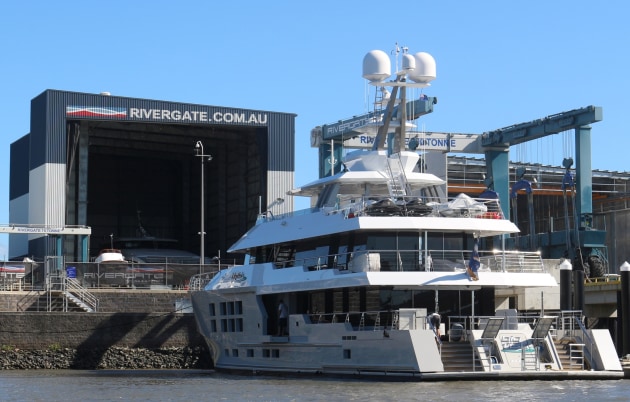 Big boats bound for busy Brisbane boatyard.
After playing host to several leading race yachts earlier in the season, Brisbane boatyard Rivergate Marina & Shipyard is now playing host to a number of superyachts as they prepare to cruise local waters over the summer.
Superyachts currently lining up for work at Rivergate include MY Aurora, MY Whistler, MY Sahana, MY Pursuit, MY Big Fish, MY Aquamarina, MY Mohasewei, SY Cannonball and SY Southern Cloud.
Mohasewei is a 35m Italian-built Cantieri di Pisa motor yacht which is undergoing works to attain Australian survey in order to join the Sydney charter market.
The Danish-built, 40m triple-masted schooner SY Southern Cloud is one of Australia's largest sailing charter yachts with masts measuring 35m in height, while the 45m McMullen & Wing-built MY Big Fish is billed as one of the world's most sophisticated explorer superyachts.
Andrew Cannon, Rivergate general manager, said September to December is a peak period for Rivergate, as the international cruising yachts escape the northern hemisphere winter and head to the Asia Pacific for the season.
"Rivergate's reputation with captains globally means when they are in our region, this is their choice when it comes to repairs, maintenance and refit work. Brisbane offers a great climate all year round, we're cost effective and have easy access to pristine cruising grounds.
"Rivergate delivers exceptional service to budget and deadline – and that's our point of difference. We aim to provide the service and skills superyachts can't get anywhere else in the world."
Helping to spread the word about Rivergate's superyacht services, the shipyard recently joined with other Australian boatyards at the Monaco Yacht Show (MYS) to promote the refit and repair facilities available for visiting superyachts in the region.
"This year, the Australian businesses that attended MYS had a common goal: to promote the South Pacific region in general and Australia specifically," said Florian Archan, marketing manager. "The more traffic the South Pacific welcomes, the more traffic is going to flow to Australia, which will benefit the entire marine industry.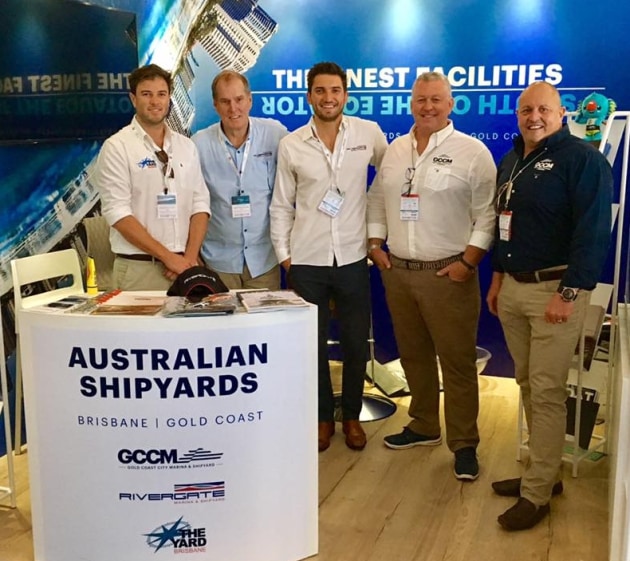 "From the feedback, the quality of the workmanship at Australian facilities is on par if not better than in Europe or America. Pricewise we are cost-competitive with Europe and the US. The weather and the atmosphere of Australia, and especially Queensland, motivates captains to come here for maintenance and cruising opportunities."
According to Steve Fisher, superyacht specialist at Rivergate, superyacht captains are pleased with the new moorings and anchorages which have been made available in the Whitsundays and Great Barrier Reef.
"They welcomed the changes, and hoped there would be more berths added for yachts over 70m," he said. "Captain Ferdi Heymann of MY Pangea said that Australia has a lot to offer and they plan to be among the international superyachts cruising down under.
"I believe we are looking at a great year ahead in 2018."