Raymarine's assisted docking now with outboards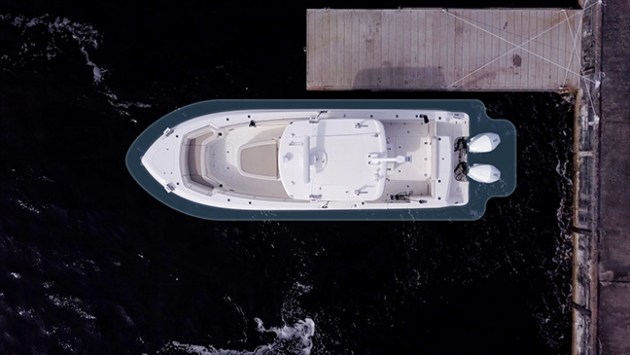 Latest demonstration of DockSense technology uses Mercury-powered Boston Whaler.
Marine electronics manufacturer Raymarine has teamed up with boat builder Boston Whaler and outboard supplier Mercury Marine to demonstrate its latest DockSense assisted-docking technology. This is the first time the technology has been demonstrated with an outboard-powered vessel.
At Mercury's Lake X testing facility, a 33ft Boston Whaler Outrage with twin Mercury Verado 300hp engines was used to highlight how the DockSense technology can be adapted for use with different vessels and suppliers. The system was launched last month at the boot Düsseldorf show in Germany where it was shown in conjunction with Prestige Yachts.
The DockSense system is designed to continuously monitor a vessel's surroundings, keeping its autonomous system updated with real-time detection of objects like pilings or other vessels. It combines cameras and video analytic technology to create a Virtual Bumper and help steer skippers away from potential obstacles.
Components include multiple FLIR machine vision cameras, a central processing module, and the DockSense App running on Raymarine's Axiom navigation display. It also uses global positioning system (GPS) and attitude heading reference system (AHRS) position sensing technology to compensate for the effects of wind and currents.
"This demonstration extends Mercury's role as the leader in marine propulsion," said John Pfeifer, Mercury Marine president. "Our future is focused on innovation and inspiration on the water.
"We are positioned on the cutting edge of autonomous piloting and other new technologies and will continue to deliver better boating experiences to our customers."
The system will also be demonstrated with the same boat and engines at the upcoming Miami International Boat Show.
"Mercury's adoption of Raymarine DockSense assisted docking solution will transform the boating experience," said Travis Merrill, FLIR commercial business unit president. "By combining FLIR machine learning and advanced sensor technologies into DockSense, we are taking the stress out of docking and making the boating experience more enjoyable for everyone onboard."
Check out how Raymarine and Prestige Yachts are looking to turn heads with the latest DockSense docking assist technology.