Premium service promised from Yanmar parts manager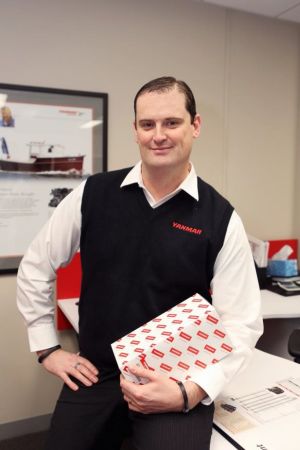 NEW parts manager offers premium service and keen shipping rates at Power Equipment.
Power Equipment has appointed Jason Hodder (pictured) as its new national parts manager with responsibility for the complete management of parts for the Yanmar, JCB and all associated brands.
Hodder has 25 years' experience in the parts industry, having previously been involved in the agricultural and trucking sectors. While this gave him a good awareness of the Yanmar brand in the agricultural sector, he said his awareness of Yanmar in the marine area was more limited.
"However, when I arrived at the Power Equipment offices in Lynbrook to meet with management, I knew right away that I wanted to be a part of this organisation," he said.
"The presentation of the business, the family owners and the systems which they have in place, are absolutely first rate.
"Based on my parts experience with some of the biggest companies in Australia, I can safely state that the parts systems at Power Equipment are world class and the very best that I have ever worked with. This is a very impressive organisation."
Parts Managers are driven by fill rates and Jason Hodder is no different. The fill rate at Power Equipment is well into the "90's" and Hodder has the objective of pushing this even higher.
The challenge, he said, lies in working with a world class system and making it even more productive for the benefit of dealers and customers.
"I will be working with our dealers to ensure that they get the best support and parts delivery possible.
"Like every marketer of global brands, Power Equipment faces challenges and stiff competition from competitors on the web. The market is now truly global.
"We can assist our dealers by lifting our fill rate even further, offering premium service and providing keen shipping rates," he concluded.
One initiative Hodder has been responsible for introducing is Yanmar Service parts kits for key marine engine ranges. The kits offer all the parts needed to service a designated engine in a single box and are available at greatly reduced prices of up to 45% off.
Service kits are now available from authorised Yanmar dealers for the following marine engines: GM - 1GM10, 2GM20, 3GM30; YM – 2YM15, 3YM30; JH – 3JH2E, 3JH2T, 4JH3E, 4JH4E, 4JH3-TE, 4JH-THE, 4JH5E, 4JH4AE.