Power Equipment showcases new diesel beast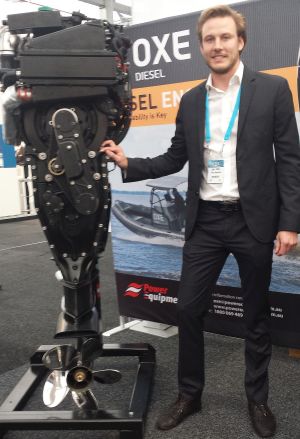 SWEDISH-made Oxe diesel outboard introduced at Pacific15 exhibition.
Named after the Swedish word for an ox, the Oxe diesel outboard, which was shown for the first time on the Power Equipment stand at Pacific15 in Sydney last week, is billed a reliable, hard-working unit for commercial and military vessels.
The 200HP 2.0 litre turbo-charged engine uses a General Motors automotive diesel model that has been marinised with closed circuit cooling. The engine is mounted horizontally with all the service points at the front so that maintenance can be carried out on the water.
The outboard uses a patented belt propulsion unit instead of standard bevel gears and transfer shafts, a design which the makers say allows for increased torque transfer to the propeller as well as greater durability.
Luke Foster of Power Equipment, known locally as the agent for Yanmar diesel engines, said the Swedish manufacturers have been trying to break the engine – by using repeated crash-stops that would typically smash a gearbox – but so far without success.
Torqeedo hits the spot
At the opposite end of the scale alongside the diesel 'ox' outboard, Power Equipment was also showing a very neat 3HP electric outboard from Torqeedo of Germany.
The modular battery-powered unit offers a running time of over 10 hours (depending on speed and vessel) with an onboard display that constantly updates with current battery life, speed and range.
Alternatively, you can use the innovative TorqTrac app on your phone which uses the built-in GPS and Bluetooth transmitter to plot your exact position on a map and show the distance ranges as the engine accelerates or slows down.
The battery can be recharged while out on the water using a lightweight solar panel and there is also a USB connector to recharge your phone at the same time.
Luke Foster said the unit costs more than an equivalent petrol engine but that it will appeal to boaters who want a lightweight, quiet, easy-to-use outboard without the need to carry fuel.
For bigger vessels, Torqeedo also do 40HP and 80HP equivalent outboards.
See the Torqeedo Travel 1003 in action at Pacific15.