Perth cover maker expands export business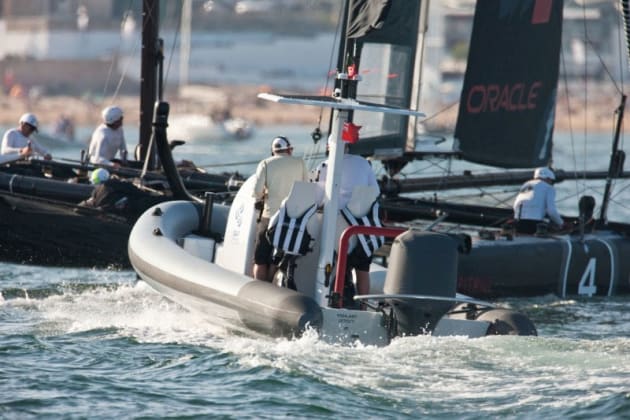 Protective covers for outboard engines find new markets overseas.
Perth-based specialist cover manufacturer, Outboard Covers & Accessories (OCA), is gaining new markets overseas for its range of protective engine covers.
The company has been named as the official supplier to the America's Cup Event Authority which will see its Splash covers fitted to the race organiser's fleet of support boats for the upcoming series in Bermuda.
In addition, the company's long-standing relationship with Suzuki Marine in Australia has now been extended into Europe and via the engine manufacturer's global P&A division. OCA is now supplying a portable outboard carry bag that is available to Suzuki distributors and dealers worldwide. In addition, Suzuki Belgium will be launching the Splash covers at the upcoming Belgium Boat Show in February.
OCA was established in 2000 by Geoff and Leanne Felgate. During the couple's travels around Australia towing their tinny and outboard, the motor was constantly covered in dirt and dust. Unable to find a suitable engine cover, they decided to make their own - and so OCA was born. The company still designs and manufactures all its products in Perth for worldwide distribution.
Today, there are over 100,000 OCA covers in the market. The company's core business is the trademarked Splash cover which is a vented cover that allows the motor to be run whilst the cover is fitted. These are made as an OEM product for major engine manufacturers such as Mercury Marine, BRP Evinrude, Suzuki and Yamaha Marine but are also custom made to individual requirements.
In 2007 James Abrahams joined the ownership team and, based in the UK, started the business expansion outside Australia.
The company also runs a 'Special Projects' department concentrating on military and commercial customers with unique requirements. This has resulted in heated covers for extreme cold, infra-red shielding, sound insulation and a soon to be launched corrosion inhibiting cover.
As well as these specialist items, the company has seen rapid growth in the supply of covers to the superyacht market with the most recent order coming from the superyacht Tatoosh owned by Microsoft founder, Paul Allen.