Perth boat show close to a sell-out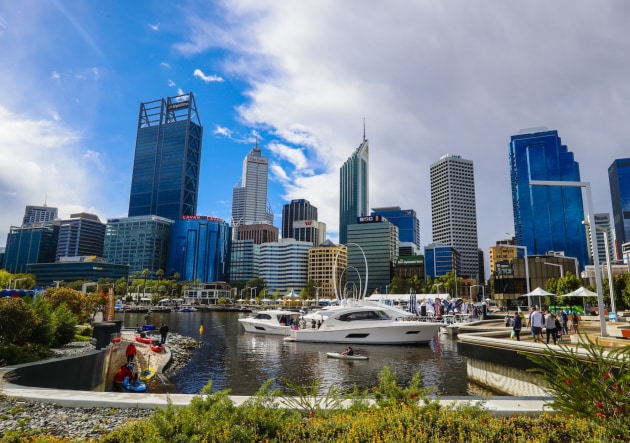 WA's biggest show looks set to fill expanded exhibition space.
The 2018 Club Marine Perth International Boat Show, due to be held from 21-24 September, has expanded its footprint this year and is already close to being a sell-out.
Presented by the Boating Industry Association of WA (BIAWA), the show will feature indoor displays of trailerboats and boating accessories at the Perth Convention and Exhibition Centre, while the nearby Elizabeth Quay will feature big boat displays as well as free activities for visitors to take part in.
"What makes the Club Marine Perth International Boat Show different from other events is that it is more than just a boat show," said Mike Beanland, BIAWA president.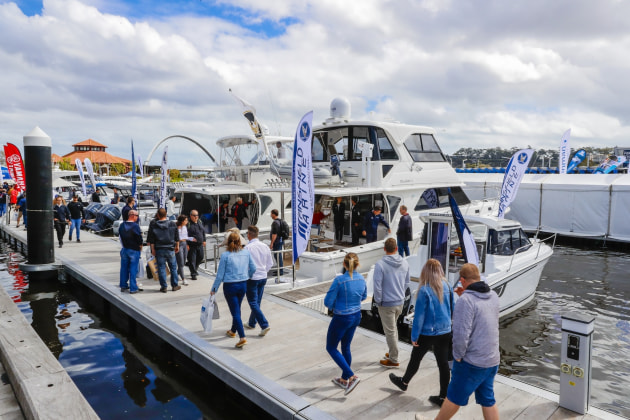 "Although audiences will be attracted to look at and make purchases of the latest boating products, we are extremely pleased to be able to offer a boating and sailing Festival, with a diversity of attractions to suit everyone.
"Our focus for the show is to present a full boating activation that people want to spend all day enjoying. With activities to try out, skills to learn, information and knowledge to gain, and of course field experts on hand to help out, the Club Marine Perth International Boat Show is an exciting event for anyone interested in boating and fishing."
The on-water boat display is expected to feature up to 30 boats from major brands.
"We are pleased to welcome back big names such as Sunseeker, Maritimo, Multihull Central, Caribbean, Riviera and Fairline, and this year we welcome Fleming Yachts," said Beanland.
Indoors, the show will take up all six pavilions within Perth Convention and Exhibition Centre with the hardstand displays already about 95% sold out. All major Perth dealers are taking part in the show as well as West Australian boat builders Westerberg, Fury Boats and Razerline.
Activities planned for Elizabth Quary include some that visitors can have a go at while others were aimed at offering something to watch or look at, while also providing information and knowledge.
"We are pleased to again be working with Swan River Sailing to present the Festival of Sailing, which will have a range of activities for visitors to get involved in," said Beanland.
Two different Discover Sailing activities are planned for the weekend including the Tackers sailing program for children under the age of 12 and, for older kids and adults, the opportunity to go sailing on Perth Waters.
"Tackers is a program aimed at getting more primary school aged kids sailing at clubs across the country. Everything about Tackers is centred on understanding how kids learn skills and have fun through sport," said Andy Fethers from Swan River Sailing.
"Participants are given a lifejacket to use while on the water, and our instructors will teach them the basics of how to turn and steer. Within about 10 minutes, most kids have got the handle of managing these boats and are off sailing for themselves. Our instructors are right there of course to lend a hand."
For older children and adults, the Discover Sailing program offers a chance to get out on a 36 foot yacht on the open water. No experience is necessary, guests can do as little or as much as they like and all safety precautions are taken.
Other free activities within Elizabeth Quay will include kayak and stand up paddle board rides, kid's casting competition and powerboat rides.
The show will also feature a new Boating Knowledge Centre to cater for visitors looking for information on boating and fishing in Western Australia, and there will be entertainment from Nick Duigan and Andrew Hart from TV's Hook, Line and Sinker who will be sharing stories of their fishing escapades.
More information is available on the website.