Oyster Cove becomes Fish Friendly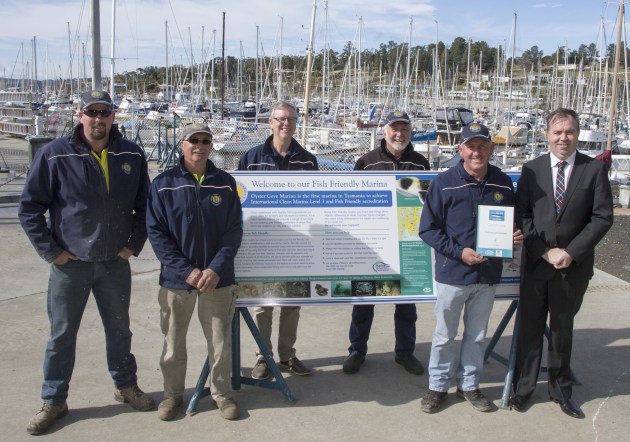 Tasmania's first Clean Marina follows up with Fish Friendly award.
In the wake of being named as Tasmania's first Clean Marina earlier this year, Oyster Cove Marina at Kettering, 34kms south of Hobart, has now been awarded Fish Friendly Marina status by the Marina Industries Association (MIA).
Fish Friendly accreditation focuses on the protection and enhancement of marine habitat and is an addition to the Clean Marina accreditation. The award was developed to encourage marinas to protect the marine environment and be proactive in educating boaters and their local community about the fish habitat and how to help protect against introduced marine pests.
The State Member for Franklin, Nic Street, presented the Fish Friendly award to Oyster Cove and congratulated the marina on its achievement.
"A clean marine environment benefits all users of the marina facilities, including local industry, the general public and the local community," he said. "This accreditation is the result of Oyster Cove Marina working with the Marina Industries Association to achieve Fish Friendly status by upgrading existing and implementing new environmental practices, and also supports the Government's strong commitment to biosecurity and the eradication of introduced marine pests."
Marina manager, Phil Boustead said Oyster Cove is proud to be recognised as the first Fish Friendly and Clean Marina in Tasmania.
"Being able to fly the Clean Marina flag is an important signal that we are committed to high environmental standards and will further encourage us to continually improve our operations and environmental performance," he said. "We are committed to the long-term viability of the D'Entrecasteaux Channel and are happy to play our part by adjusting our business practices to ensure the marine environment remains environmentally sustainable.
"We just hope that other commercial operators in the Channel have the same long-term view."
MIA director for Tasmania, James Burbury said the award is important for the marina industry as it demonstrates environmental leadership to the wider marina community, not just in Tasmania.
"We now have 70 marinas across Australia and internationally committed to environmental best practice under this program. The challenge for industry remains to continually increase the number of marinas committed to achieving Clean Marinas status."
Hobart-based environmental consultancy, Elgin Associates, was the independent auditor for the Oyster Cove Marina accreditation.