Northside Marine wins top Stacer dealer award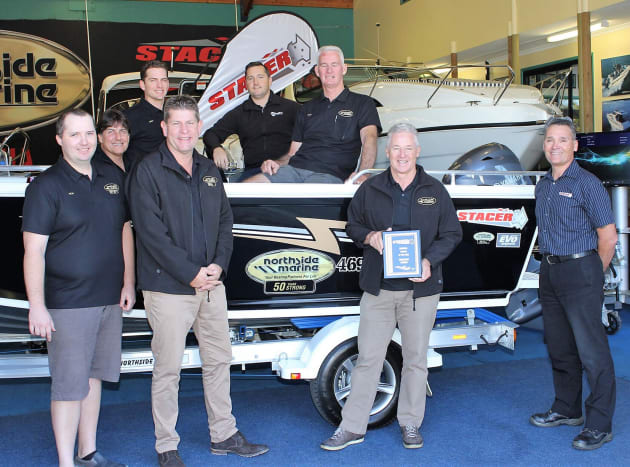 Brisbane dealership celebrates most successful year with national award.
Brisbane's Northside Marine has been named as Stacer's national dealer of the year for 2016-17. Dealer principal, Greg Nickerson, said the entire team at Northside Marine played a part in one of the dealership's most successful years to date.
"The phrase that we live by at Northside Marine is 'Your boating partners for life'," he said. "From a sales point of view 2016 was our strongest year. This has rolled over into 2017 with our numbers continually increasing."
Sales manager, Bill Hull, credited the dealership's success to its tailor-made systems and embracing continual change.
"We run a software system that we have designed and built ourselves, which allows us to build boat packages, controls, options and ensure costs are spot on. We now live by this program as it controls our whole boat sales department.
"We have been on our current three acre site for close to 20 years and have been doing a number of upgrades over the last few years with a number of other facelifts to come."
Northside Marine is situated in a purpose built 10,000m² dealership located in Boondall, 20 minutes north of the Brisbane CBD. The business has been run by the Nickerson family since 1965. Many of the 35 staff members have been with the company for over 20 years.
Stacer account manager, Cameron Wood, said the Stacer National Dealer of the Year award goes to the "best of the best".
"From the moment you arrive at the dealership you feel welcome and appreciated. Their customer feedback is always positive and their Customer Satisfaction Index is well above the industry standard.
"The professional approach to boat show attendance and presentation is a credit to the team and makes it a pleasure to work with them."
The dealership presentation also contributed to winning the award, said Wood.
"The attention to detail is everywhere right down to the well-presented staff in their Northside Marine uniforms.
"The marketing covers all areas of the media and is focused and pointed.
"As they say 'stock sells stock' and Northside Marine have no shortage of both numbers and variety."
Other dealerships to collect awards from Stacer for 2016-17 include Rifen Marine at Rockhampton as the top Queensland dealership, Hitech Marine in WA and Border Marine Centre at Albury in NSW.
Cameron Wood presents the Dealer of the Year award to Greg Nickerson at Northside Marine.