North Queensland marinas collect environmental awards
Hamilton Island and Abell Point marinas recognised for environmental best practice.
Two North Queensland marinas – Hamilton Island Marina and Abell Point Marina – were recently presented with awards from the Marina Industries Association (MIA) recognising their accreditation as Level 3 Clean Marinas and Fish Friendly Marinas.
Both marinas are major tourist destination and boating hubs due to their location on the Great Barrier Reef south of Cairns. Hamilton Island is known internationally as the host of the annual Audi Hamilton Island Race Week in August while Abell Point Marina has positioned itself as the Gateway to the Whitsundays and was a major focal point earlier this year as a host marina for the famous Clipper Round the World Race stopover.
The International Clean Marinas environmental accreditation process includes a site audit of key operational areas includes inspections of mechanical activities, boat maintenance and storage, fuelling, facility management, workshop, mechanical, shipwright and boat repair, emergency planning and equipment and boater education. A written report with detailed feedback is provided to the marina.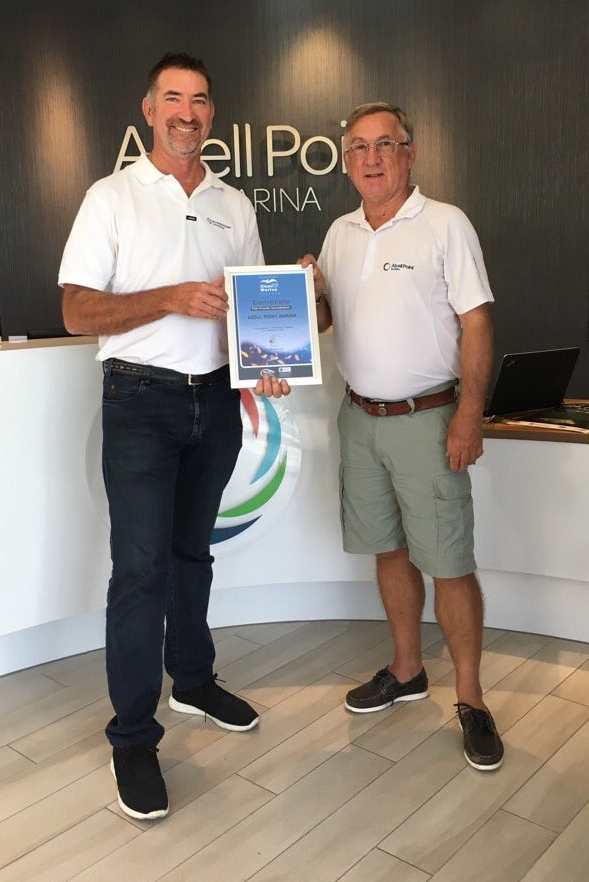 Abell Point Marina's business development manager, Luke McCaul, said the achievement of Clean Marina accreditation was another important step in demonstrating the marina's commitment to environmental best practice.
"As a multi-faceted marina facility it is essential all components are operating both individually and collectively at the highest level of performance. The Clean Marina program provides us with specific criteria to assess the environmental performance of our marina operations and complements our environmental policies, plans and operations. Undertaking the additional Fish Friendly audit further demonstrates this commitment."
The 'Fish Friendly' initiative is attached to the Clean Marina Program and is available to marinas across the Asia Pacific region. Additional 'fish friendly' criteria and a specific audit are requirements to achieve accreditation.
"Hamilton Island is proud to be recognised as a Clean Marina and in addition to that, a Fish Friendly Marina under the MIA program," said David Boyd, Hamilton Island's general manager - retail, activities & marina. "Being able to fly the Clean Marina flag is an important signal that we are committed to high environmental standards as is the whole Whitsundays marine region."
On presenting the marinas with their certificates, MIA director, John Hogan CMP commented: "The significant achievement by these two high profile facilities is important for the marina industry as they demonstrate environmental leadership to the wider community.
"We now have 66 marinas across Australia and overseas committed to environmental best practice. The challenge for industry remains to continually increase the number of marinas committed to achieving Clean Marinas status."