New releases lining up for Melbourne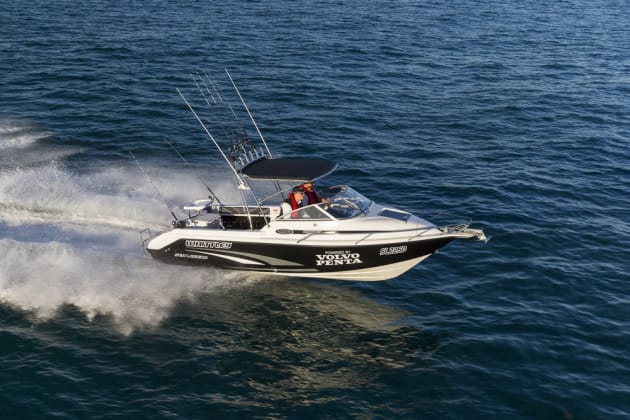 Local and overseas manufacturers launch new models at the boat show.
Next week's Melbourne Boat Show will see a raft of new release boats from both Australian and overseas manufacturers.
Local boat builders will be represented at the show include the likes of Bar Crusher, Haines Hunter, Whittley, Northbank, and Spy Boats, while overseas brands include the US-built Chaparral, powerboats from the French marque Beneteau and the latest award-winning designs from the Finnish-built Axopar range.
Local manufacturer Whittley will be presenting more than 24 models on display including the new SL 20 model, a six-metre hybrid fisher/cruiser with 23o deep-V dead-rise hull. The SL 20 is pitched as a more affordable SL offering with many of the larger SL feature packaged with a Mackay Trailer and Volvo Penta V6 200hp engine.
Whittley will also be releasing a new SL 25 HT, a seven metre hardtop fishing boat, and the CW 1950, new outboard powered 5.8 metre no frills boating package. Alongside the new model releases, the company will show the full range of its popular CR models, the innovative FF 2100 and the XS series of wake cruisers, and the rest of the SL and CW sports fishing models.
Chaparral Boats will display its new range of Surf boats which were recently launched at the Noosa Festival of Surf.
"The Noosa launch was a brilliant way to show the benefits of owning a Chaparral Surf Boat," said Scott O'Hare from Chaparral Australia. "We surfed the Noosa river most mornings and then took off out through the bar into Laguna Bay for a surf off the beach in the afternoons. At one stage Mother Nature hadn't provided any real waves and we ended up with some of the world's best carving up behind the big Chaparral 257 Surf, enjoying the endless waves for hours."
In addition to the Surf range, Chaparral will also debut its latest outboard boat, the 21 H2o Bowrider, as well as a range of centre console and dual console models from the fishing boat brand, Robalo. Chaparral and Robalo can be found on the Aussie Boat Sales stand #D10.
Local agent Eyachts will be showcasing three of the the award-winning Axopars this year with the Axopar 24 T Top, Axopar 28 AC and Axopar 37 Cabin all on show. The French Beneteau brand which will be showing two powerboats, the Gran Turismo 40 and Swift Trawler 30, presented by Sundance Marine.
Sundance will also be showcasing the Italian luxury boat builder, Invictus, which is making its debut in Australia with the 280GT and 280TT models.