New releases announced for SCIBS
More than 100 exhibitors book space for 2017 with new boats set to debut.
Organisers of Sanctuary Cove International Boat Show (SCIBS) are predicting a bumper show next year with more than 100 brands reserving space since bookings opened in early November.
Among the exhibitors to sign up so far are Line 7, Sirocco Marine North, Leopard Catamarans, Multihull Solutions, Multihull Central, Akzo Nobel (International Paint), Garmin, AMI Group, Pantaenius, Contender Sailcloth, Ronstan International, Stella Systems, Navico, Collins Marine, Pacific Motor Yachts, and Fleming Motor Yachts.
SCIBS sales and exhibition manager Dominic O'Brien said exhibitor bookings were up 50% on the same time last year.
"There has been continual enquiry since applications opened, and exhibitors have been committing to larger spaces with more boats," he said.
"The pavilions are selling swiftly and AIMEX Alley will be expanded in 2017 due to demand for this space.
"All space across our pavilions sold out by February 2016, so we encourage potential exhibitors to get in soon to secure the space they want for SCIBS 2017."
O'Brien said additional marina berths will be made available in 2017 to cater for a larger number of on-water displays, specifically with growth in luxury charter superyachts anticipated following the success of their attendance in 2016.
Several exhibitors have already indicated their intention to launch new models at the show.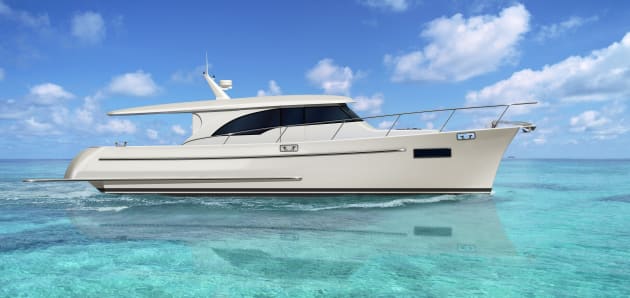 Pacific Motor Yachts' managing director Brett Thurley said the brand will be amongst the largest exhibitors on water next year, with SCIBS 2017 being the company's biggest display ever.
"We are planning to display boats from the Clipper, Jeanneau power, Cobalt and Marlow ranges, including three world premieres for Clipper," he said.
The Clipper models making their debut at SCIBS will be the Cordova 51, Hudson Bay 54 and Hudson Bay 39 while the new Marlow 53 Explorer will also make its Australian premiere.
"The new Clipper motor yachts will be a step change from anything seen before including European-inspired interiors, the launch of a new large volume semi-displacement sedan range and a stunning new Marlow 53," said Thurley.
Alongside these debutants, there will also be three Australian premieres for Cobalt – the R5 WSS Surf edition, 25 SC outboard and 26 SD.
Catch the Leopards
Also making their first appearance at a SCIBS will be the Leopard 45 and the award-winning 43 Powercat from the South African boat builder, Leopard Catamarans.
David Flynn, who represents the brand in Australia, said the latest Leopard 43 Powercat set to be displayed is pre-sold, joining a number already sold in Australia.
"We sell boats to Queensland buyers and southern owners too. We have been exhibiting at SCIBS on and off for eight years. It works well when we have the launch of new models to market as the show reaches our demographic," he said.
Multihull Central director Brent Vaughan said the brand will be "in force" at SCIBS 2017 and will host the world launch of the new Seawind 1260.
"It's the successor of the Seawind 1250, with a completely new deck design, cockpit configuration and interior layout. There are a lot of enhancements that people will notice, and we think, be very impressed with."
Also on display at SCIBS 2017 will be the Seawind 1160 Lite, which is the current model, and the Aquila 44 Powercat, which made its debut at SCIBS 2016.
A vote of confidence
SCIBS general manager Johan Hasser said the first wave of exhibitor applications gave a huge vote of confidence for the months ahead.
"We are seeing a great combination of new product launches, innovative promotional ideas and optimistic industry sentiment about the year ahead," he said.
"It's exciting to receive such early enquiry and applications. The new configuration and added features, along with the ASMEX conference leading into SCIBS again next year, will deliver exhibitors the kind of qualified and desirable buyers they value for sales and leads long after the show is over.
"We also look forward to welcoming international delegates from ICOMIA and IFBSO who will be on the Gold Coast during boat show time for Congress 2017.
"We encourage businesses who intend to exhibit at SCIBS 2017 to get in touch with us before Christmas, or book their space online, to ensure they can select the best space for their product."
In addition to exhibitor bookings, early bird ticketing for the SCIBS has also started offering a saving of 25% on single entry and multiple day passes until February 28.