New dealer for Whittley Marine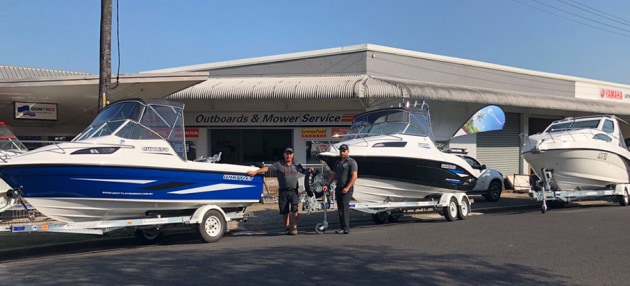 Cavs Marine in Tully chosen to expand Whittley presence in North Queensland.
Victorian trailer boat builder, Whittley Marine, has expanded its dealer network in Queensland with the appointment of Cavs Marine in Tully as its new dealer covering the North Queensland market. The new appointment is in addition to the company's long-term dealership with Northside Marine in Brisbane.
Cavs Marine has been in operation in Tully for over 40 years, since 2016 under current owners Don and Sonia Cavallaro.
"We chose the Cavallaro family because of their passion, professionalism and business model," said Neville Whittley, Whittley Marine managing director. "They are a family business working hard to service the needs of their boating customers.
"The business, family and dealership are the ideal fit for the Whittley brand, servicing our customers in Northern Queensland, a key area of growth for both companies as we expand together.
"The Whittley Brand has experienced significant growth in the last 12 months as we secure up our philosophy of offering one of the strongest ranges of locally made trailer boats across the brand's five different series of boats.
"This new partnership will allow potential Northern Queensland customers to see more new Whittley Boats. It will also offer higher levels of after-sales support with Whittley factory-trained technicians in more locations to support customers post purchase.
"The Whittley brand already has a strong reputation and following in Northern Queensland and we look forward to continuing to build on this as we welcome new owners to the Whittley family, through Cavs Marine."
Cavs Marine currently has two trailerable Whittley cruiser models in stock, the CR 2080 OB and Fleetmaster 26, two SL offshore sports fishing boat models, the SL 20 OB and SL 25 HT OB, and two models from the CW series, the CW 1650 and CW 1950.
"We are extremely excited to be Whittley's first dealer in Northern Queensland," said Mathew Cavallaro, managing director of Cavs Marine. "Having spent many months reviewing the fiberglass trailer boat market, we feel Whittley was the right fit for our market and dealership.
"We are extremely excited about Whittley's future here and the new models set to be announced from the company into the coming months. We look forward to a lasting association with the Whittley brand and its customers, and welcoming new customers to our dealership and the extended Whittley family."