Mercury shows it can push and barge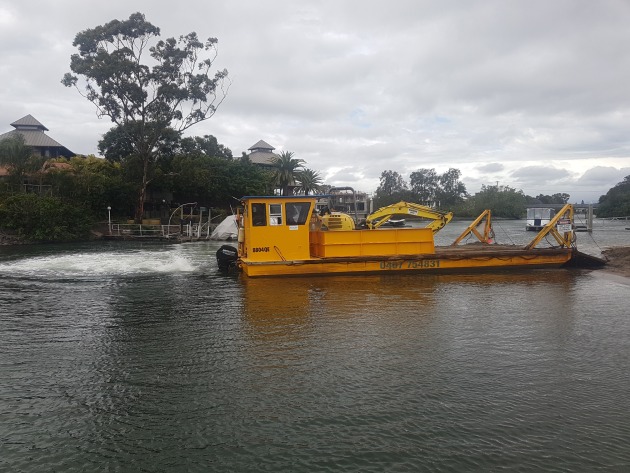 Mercury 75hp outboard logs 10,000 hours hard labour on Gold Coast punt.
Wingbrook Marine on the Gold Coast operates a fleet of four specialist craft working six days a week to help maintain the 400 kilometres of canals for which the city is famous. Each vessel covers at least 60 kilometres during a six-to-eight hour workday, helping to get rid of problem vegetation and rubbish as well as maintaining the canals' critical stone revetment walls.
One of these boats is the company work boat, a 2x6 metre aluminium punt used to haul up to 17 wheelie bins of rubbish and powered by a 75hp Mercury outboard that has just notched up 10,000 hours.
"Nothing has been changed or adjusted internally. We just start it up and off she goes," said Kevin Adshead, manager, who oversees the company's hard working fleet.
Recently the gearbox on the outboard had to be replaced, which is not surprising given that it goes from forward to reverse close to 200 times a day.
"I plan to replace it with a Mercury SeaPro when the time finally comes but until then I'll just let it go," said Adshead.
A SeaPro 115hp FourStroke version was fitted to the company's barge, replacing the Mercury 115hp FourStroke which had previously provided more than 5,000 hours of loyal service. The SeaPro engine has a Command Thrust gearbox which is specifically designed to provide better performance and control on larger, heavier craft.
"The barge weighs 20 tonnes and is always carrying a six-tonne excavator and a three-tonne bob cat… so about 29 tonnes all up before we load it with rocks or anything.
"Since we put the SeaPro on it the characteristics have changed – improved – significantly.
"The reserve thrust we now have is absolutely better; it works really well."
Going forward has certainly improved too, said Adshead.
"There's a section of the canal up here that everyone talks about – the Monaco Street Bridge – which has a really powerful tidal flow that runs at 5-6 knots.
"We can now go through there against the full tide and not worry about it pushing 29 tonnes which is quite something.
"We often work in dirty water up here and the SeaPro has never stalled or stopped.
"This is commercial reality. If this engine breaks down then we don't get paid. That's why I like SeaPros," he added.
See the new Mercury Seapro 115hp outboard with Command Thrust Gearbox and 13 inch stainless steel propeller pushing the loaded Wingbrook Marine barge against the tide at 3800rpm.