Mercury recalls V6 and V8 outboards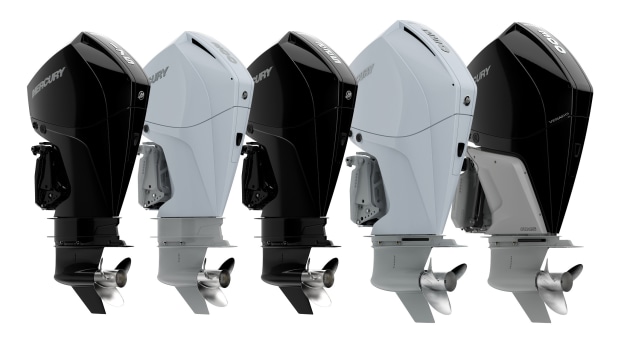 Several models across current range recalled to fix potential water leak.
A recall notice has been issued by Product Safety Australia for a number of Mercury Marine's latest V6 and V8 outboard engines to fix a potential water leak into the shift actuator.
The products included in the recall notice include Mercury V6 FourStroke 175-225hp models, V8 FourStroke 200-300hp models and V8 250R,300R/300R HD race engines covering the period from 1 May 2018 to 6 March 2019.
According to the recall notice, a possible water leakage could cause internal corrosion and wire damage, eventually causing the engine to go into Guardian-forced idle, losing shift control (engine remains in its last gear position), or resulting in the engine not being able to be restarted.
Owners are advised to contact their nearest Mercury dealer who will arrange for the engine to be inspected and, if affected by the recall, for the shift actuator to be replaced.
In a statement, Mercury Marine said it had identified a potential issue with a small number of V6 and V8 shift actuators.
"As required for all recalls, the full details are published on Australian ACCC, New Zealand NZ Recalls and Mercury ANZP corporate websites. While there have only been a small number of local instances, Mercury has made the decision to recall these affected actuators to ensure that each engine that we put in the marketplace is up to customer standards.
"Customers who may have experienced an issue have been sent communications directly from us, notifying them of the recall and with the largest dealer network in the marine industry and over 700 factory trained technicians, Mercury ANZP is well placed to respond immediately to fully support the limited customers affected and their product.
"Since the launch of these engine platforms, we have seen unprecedented demand for both the V6 and V8 product lines units throughout the ANZP region. Recall affected engines are early production units and all new production for the last several months are not subject to the recall."
Customers who may be concerned about this issue should contact either the Mercury dealer network or Mercury Marine Customer Service on 03 9791 5822 (Monday to Friday, 8.30am to 4.30pm AEST) or email ANZP@mercmarine.com.