Mercury celebrates Bridge to Bridge outright win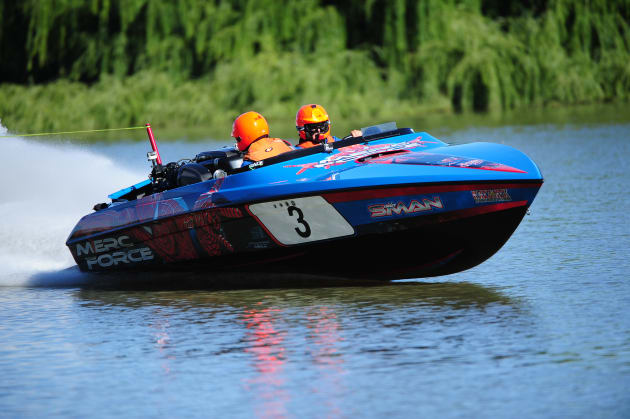 Mercury Racing-powered boats clean-sweep several classes in Hawkesbury races.
Mercury Racing is celebrating numerous wins in this year's Bridge to Bridge Classic held on the Hawksbury River last month, including outright honours for Merc Force powered by a 1650 QC4V engine which came first in the Super Class competition.
Owner-driver Don Gulley, observer Kevin Boylan and skiers Kristofer Knights and Jake Tegart completed the 112 kilometre course in 38 minutes 46 seconds
"Don's put his heart and soul into ski racing for such a long time so it was great to see him clinch victory in such a huge race," said Mercury Racing's regional sales manager, Peter Massina. "Don and his team have made a big statement."
Mercury Racing completed the trifecta in the Super Class competition with runner-up Stinga F1, powered by a 9.0 litre, quad cam, four-valve 1650, crossing the line just 23 seconds later while Top Gun with a 1350 QC4V was the third boat to finish. The Unlimited Inboard category was won by TR driven by Ian Tricker, also powered by a Mercury Racing 1350.
It was a similar story with the outboards where Mercury engines achieved a triple trifecta.
In the Unlimited Outboard, Mercury took the top three spots with Judgemental powered with twin 2.5 litre Mercury outboards ahead of Shooter and Mad Ranga both powered with Mercury 300XS outboards.
In the MOC class, Speed Lab, Running Riot and Against the Grain claimed the top three spots, all driven by Mercury 300XS outboards, while in the F2 category, Showbiz, In Strife and Impulsive – also with 300XS engines – completed another clean sweep.
In other results for Mercury Racing, Still Sparken and Revolution Racing 110 clinched first and second in the Under 16 Girls competition, both with 300XS outboards, while Melt Down, powered by a 700 SCi sterndrive, won gold in the Under 19 Girls.