Meet Australia's top Quintrex dealers
Quintrex announces its 'best of the best' from around the country.
Queensland boat builder Quintrex has named its top dealers for 2015/16 from around Australia, announcing the winners of its state-based and sales awards having previously named Terrace Boating in NSW as National Dealer of the Year.
The top dealerships this year include JV Marine World, Ray Scholes Marine, Hunts Marine Wollongong, Yamaha Pitmans Marine and Boats Galore.
The awards are assessed on 10 criteria including customer feedback, dealership presentation and retail sales. Quintrex account managers Cameron Wood and Nathan Shaw said each winning dealer excelled in multiple areas and are all worthy winners of the awards.
"All of our winning dealers are extremely dedicated to their business and contribute to making Quintrex Australia's number one boating brand," said Wood.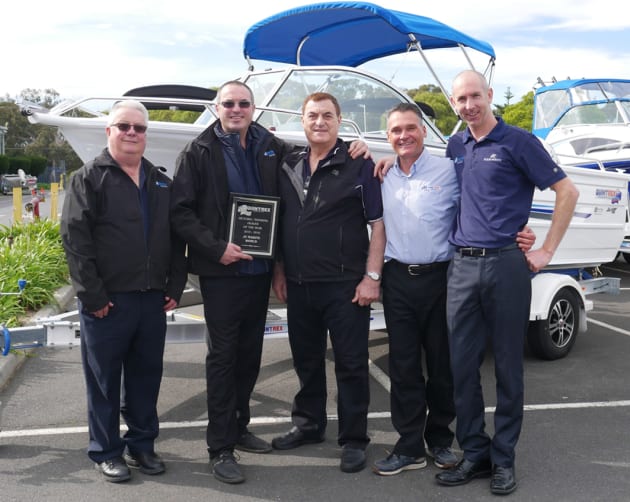 JV Marine World - Victoria/Tasmania
Forty years ago John and Vicky Stav started buying and selling boats, and over the years have grown their business into one of Australia's largest boating retailers with a ten acre site in Braeside and a three acre site in Laverton.
General manager Greg Walker said winning the award was a total team effort by all the staff at JV Marine World.
"The whole company set the goal to win this award a few years ago, and have been working hard towards achieving it," he said.
"For JV Marine to achieve Dealer of the Year we knew we had to concentrate on our customer service and make sure all customers who bought a Quintrex had a great experience through our Braeside and Laverton dealerships."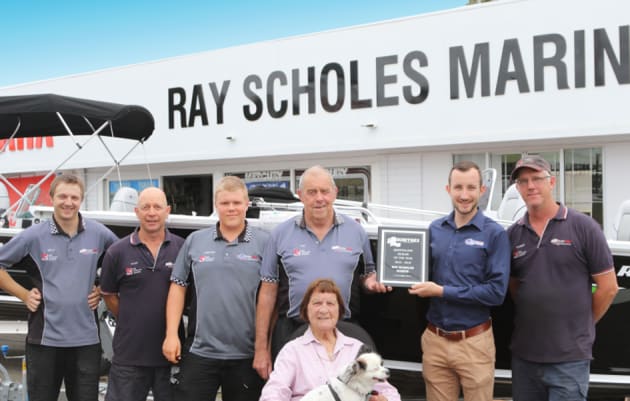 Ray Scholes Marine - Queensland
Queensland dealership Ray Scholes Marine has been a dedicated Quintrex dealer since the 1980s and its strong passion for the Quintrex brand and the industry has led to continued success.
Dealer principal Ray Scholes said winning the award came as a pleasant surprise, boosting their confidence and appreciation of the Quintrex brand.
"Quintrex's constant innovation has been a real stand-out of the brand, and has made selling the boats quite enjoyable," he said.
"What has always complemented their innovation is that they don't follow on from the trends of other brands, but rather lead the pack coming up with designs not seen before and really being a pioneer in the marine industry.
"Quintrex has also always held their customer service as a matter of great importance too, which many large companies fail to do, so on the odd occasion a customer has had some sort of concern, the entire team at Quintrex has been there to help."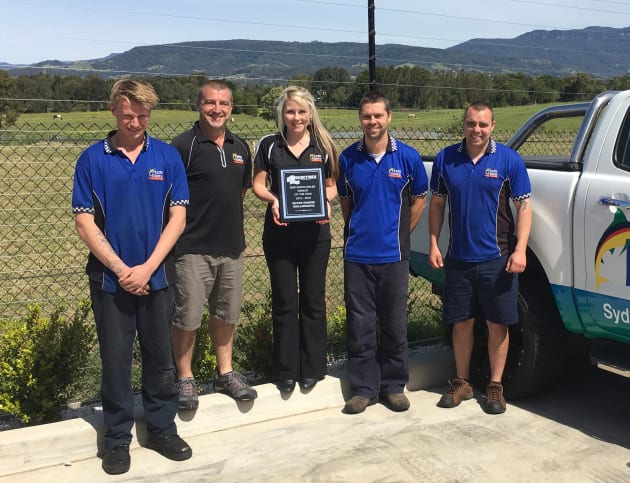 Hunts Marine Wollongong - New South Wales
Hunts Marine has a strong reputation for its customer service, expertise in the boating field and adding a personal touch - all of which gained it the NSW Dealer of the Year award.
Dealer principal Blake McArthur said he strives to provide his customers with the best products available.
"It is great to be recognised with such an award from Quintrex, Australia's number 1 boating brand," he said.
"We believe that we do the right thing by our customers, providing them with a package and product that is perfect for their needs.
"Over the years, we have built a team of staff that are not only the best at what they do, but also care for our customers, it is a credit to them.
"They are the ones that have spent the time making this happen."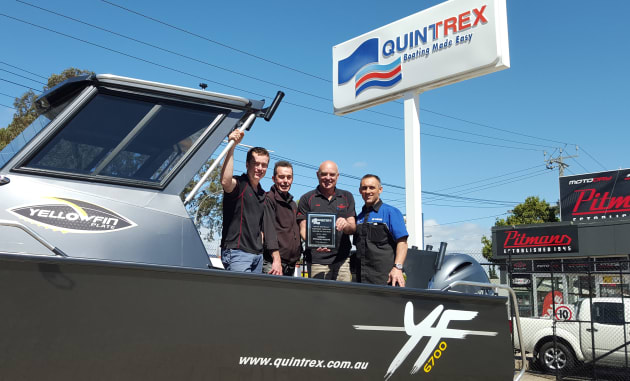 Yamaha Pitmans Marine - South Australia/Northern Territory
This year Yamaha Pitmans Marine celebrated 40 years in the marine industry and has been selling Quintrex for almost 30 of those years.
Dealer principal Dave Ferris said he is passionate about Quintrex's reputation and quality as it allows him to sell with confidence.
"Quintrex offers the flexibility to be able to build a boat to suit most customers' requirements," he said. "We have confidence in knowing the resale value of Quintrex is better than other brands."
According to Ferris, delivering great customer service has been an important factor in gaining the award.
"Customer service became a major focus and a point of difference between us and our competitors, together with a stronger advertising campaign.
"2016 has been a difficult year for our industry. However, despite this we managed to increase our sales."
Boats Galore - Sales Excellence Award
The team at Boats Galore, located in Bundaberg, Queensland, set out to make their 10th year as a Quintrex dealer a special one.
Dealer principal Peter Clements said all the hard work paid off and landed them Quintrex's Sales Excellence Award.
"We continued to provide great service and awesome boating packages, at honest and competitive prices," he said.
"We stocked a few different models to try to attract a different clientele whilst visually adding an element of change to the dealership.
"Our customers' reaction was noticeable, resulting in an overwhelming increase in sales helping us secure the National Sales Excellence Award."