Marlow 53 arrives in Australia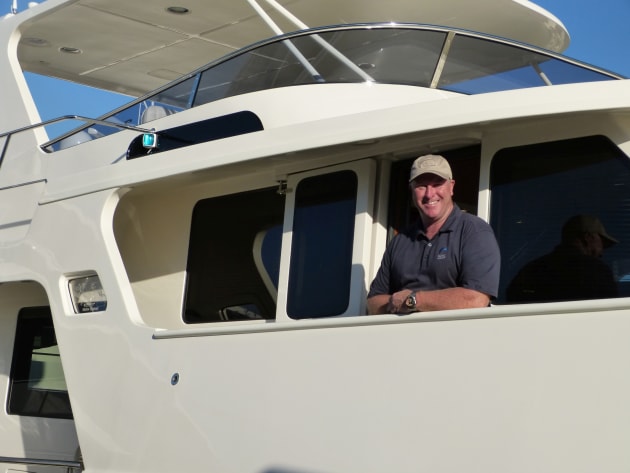 Pacific Motor Yachts to showcase new cruiser for 2017 boat season.
The first Marlow 53 motor yacht has arrived in Australia and is undergoing final commissioning in preparation for this year's boat show season. The new vessel, which is actually 18.2 metres (59 feet) in length, is due to be exhibited at next month's Gold Coast Expo.
"The Marlow 53 is in the same vein as a Fleming or a Grand Banks and our first one will feature three luxury cabins, including a full beam king size master suite, crew quarters, gyro, utility room, hydraulic swim platform and a luxurious fit out and finish that has to be seen to be appreciated," said Brett Thurley, managing director of Pacific Motor Yachts, the Australian distributor of Marlow Yachts.
"This is a $3 million plus vessel and will be ideally suited to cruising the Australian coastline and beyond."
Thurley said he believes the arrival of the Marlow 53 could be the start of a significant number of the vessels heading to Australia.
"This is a seriously big long range cruiser and it includes some ground breaking technology on board including a joystick docking system supplied by Cummins, for ease of manoeuvring in marinas and berthing, and a Seakeeper Gyro Stabilisation system," he said.
"The Marlow 53 is an economical, pilothouse trawler style cruiser that we think will have great appeal to Australian boaties because it is rugged enough for our conditions, but has levels of comfort and fit out at the forefront of boat manufacturing internationally.
"We have been eagerly awaiting the arrival of the first Marlow 53 and we are now finishing its commissioning at our sales berth ready for inspections."
In addition to the Marlow 53, Thurley is expecting the arrival of the first Clipper Cordova 51 motor yacht in Australia this month. The $1.25 million vessel has been sold to a Melbourne-based businessman, his third Clipper motor yacht, and will be based in Queensland.
"Between Clipper, Hudson Bay, Marlow and Cobalt we will have more stock boats available for people to inspect this year than ever before," said Thurley.
"To say it is an exciting time for our various companies is an understatement and we are well on our way to achieving our stated goal of being able to offer a quality boating solution to all prospective boat buyers no matter what their needs or desires."