Maritimo moves in next door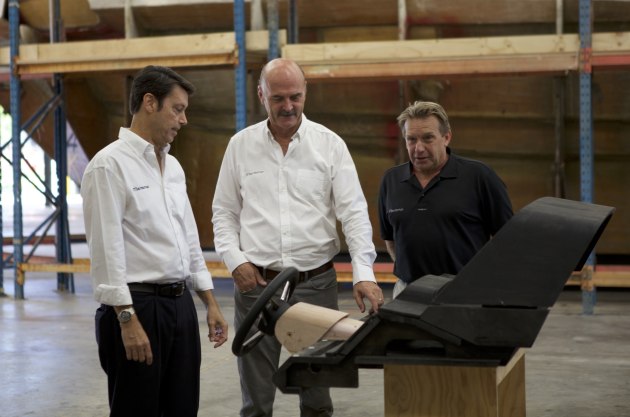 Production brought back on site as Kym Fleet joins Coomera facility.
Gold Coast-based luxury cruiser manufacturer Maritimo has commenced operations at the adjoining commercial property it purchased at the Coomera Marine precinct last year and says it is on track to increase its workforce and production as the global leisure cruiser market rebounds.
Maritimo purchased the 3.09 hectare site at 9 McPhail Road which borders the company's existing factory and the two properties have since been joined via two access ways. After undertaking works in the new building the company moved part of its manufacturing process in at the start of February. The actual factory floor footprint of the new property is still to be determined depending on building specifications and new building plans. Plans for additional structures will be announced soon.
"The expansion of the factory floor provides opportunities for us to rearrange the manufacturing process, increase production when appropriate and improve turnaround times to manufacture each vessel," said Maritimo's general manager operations Phil Candler.
As part of the physical reshuffle within Maritimo there have also been a number of management changes.
Kym Fleet, previously general manager at Sydney City Marine, has been appointed production manager responsible for all manufacturing of Maritimo vessels. He will be based at Coomera.
Chris Spriggens has been appointed service and Maritimo warranty manager, based at the company's Hope Island facility, Boatmasters, and is responsible for all service and warranty work. Former Boatmasters' manager, Gary Klien, has been appointed building projects manager responsible for all new building works at the new property.
Phil Candler said that adding McPhail Rd to the existing Maritimo headquarters has enabled the company to bring some of the manufacturing process back to the company's primary site from its Boatmasters facility.
"Stainless steel, varnishing, small parts and glass along with research and development will all be housed in the new expanded facility," said Candler. "This will all occur over the next eight weeks or so."
The Boatmasters facility will be ramped-up to provide a one-stop shop for all boat owners be they Maritimo customers or not. The facility there provides engine servicing and replacement, vessel restoration/upgrades, upholstery, sand blasting, painting and anti fouling.