Marine Trade Supplies celebrates new superstore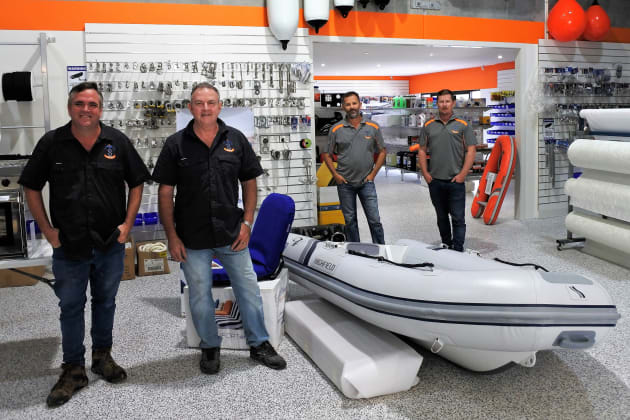 Gold Coast marine supplier doubles in size with expanded superstore.
Local marine supplier, Marine Trade Supplies & Chandlery based at The Boat Works, Coomera, is getting ready to celebrate doubling in size over the past year with a grand opening of its new superstore.
The opening event will feature an afternoon of family fun, classic cars and a Grand Opening Prize worth $5,000 up for grabs. Funds raised on the day will also go to the sailing charity, Sailabilty.
"People are welcome to come up to The Boat Works, check out the new Superstore and take advantage of excellent opening bargains," said owner and director, John Lance. "Our team and representatives from our suppliers will be on hand to answer any questions, plus there will be plenty of prizes, a sausage sizzle, classic car display and entertainment for the whole family."
In operation for the past five years, the business has enjoyed steady growth in that time and recently took on the neighbouring tenancy, enabling it to effectively double in size. John Lance attributes the growth in the business to "listening to our customers and going to great lengths to stock everything they need".
"Sales are booming as The Boat Works continues to break boat lift records each month and tenants experience that flow on to work on vessels of all sizes, powerboats, sailboats, multihulls, recreational and commercial.
"We have formed great relationships with our customers, from DIY to major manufacturers over the years and diversified from chandlery items to having exclusive international brands onboard. We have the ability to sell from 1 litre of paint to entire pallets.
"Fulfilling our customers' requirements, we have seen stock levels grow to the point where we have expanded into two tenancies! Our size gives us the buying power with Australian and international suppliers and we proudly pass this on to customers who enjoy better than competitive pricing.
"And, if we don't have it on the shelf, we will get it in with ultra-quick delivery times, often overnight!"
Brands at the new Superstore include 3M, Farecla, Collinite, Presta, Wattyl Paint, SP Tools, Festool and, most recently, the addition of Australian-made PWB anchor chain which comes complete with a test certificate.
Products range from boat chandlery, paint, fiberglass, resin, plywood sheeting and thermo-lite board, to a full selection of safety equipment, all detailing supplies, anti-foul, anchors, plumbing, electrical, LED lighting and specialist ropes.
Lance, who has Master Class 3 certification and a background helming commercial vessels in Cairns and superyachts in the Mediterranean, leads a team of four full-time marine professionals who are experts in all facets of boats and equipment: Brendan Mann is a champion sailor and knows all the latest products and terminology to ably assist the sailing set; Luke Miller has a background managing a major boating supplies outlet; and Dean Thompson has extensive experience in fishing, camping and anything to do with plywood and tools.
"We can proudly state we are the 'one-stop shop' for everybody," said Lance. "Our product range has to be seen to be believed, and hands-down, our expertise and customer service are second to none."
The Marine Trade Supplies & Chandlery Superstore official re-opening is on Thursday 18 May from 3pm, 1 Boatworks Drive, Coomera. More information on the website.