Marine Rescue adds Murray River boat and base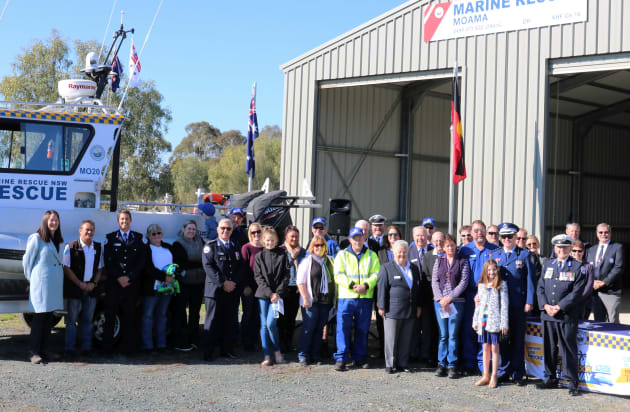 Moama base to deliver first dedicated river rescue service in the district.
Marine Rescue NSW has commissioned a new rescue vessel and base at Moama on the Murray River, part of a $300,000 investment in boating safety along this stretch of the Murray River.
The new rescue vessel, the Moama 20, is a $220,000 6.8m Ocean Cylinder Rigid Hull Inflatable Boat (RHIB), one of the service's 72 new and refurbished vessels worth more than $17.6 million.
"It is well suited to the operating conditions on the Murray," said Marine Rescue NSW commissioner Stacey Tannos.
"The vessel has the confident handling and speed of a traditional RHIB, combined with the durability of puncture-proof foam-filled sponsons that can stand up to the rigours of river environments.
"It is fitted with an array of search and rescue, navigation and advanced first aid equipment, significantly boosting the capability of the unit's volunteers."
Commissioner Tannos said the unit base at the Five Mile Boat Ramp - built and fitted out at a cost of $76,000 on land and a concrete slab donated by the National Parks and Wildlife Service - provided the 22 unit members with a safe working environment and protection for their vital search and rescue equipment.
He thanked the volunteers for their commitment to serving their community, and the State Government, including the National Parks and Wildlife Service, boaters and members of the community for their ongoing support for the work of the Moama volunteers to save lives on the water.
Ken Bambling, unit commander, said the unit was always looking for new recruits.
"You could be a member of a boat rescue crew, fundraiser or boating safety trainer," he said. "It's a great unit and we all get a lot of satisfaction from giving something back to the community."