Marine audio brands join forces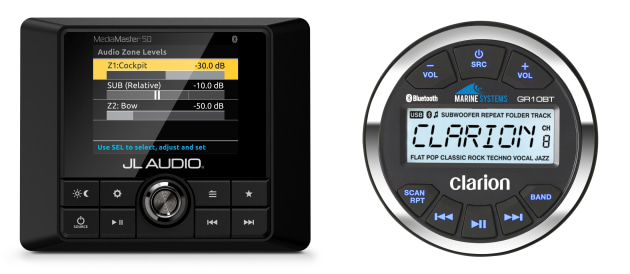 JL Audio and Clarion sign long-term agreement for sales and support.
US-based marine audio manufacturers JL Audio and Clarion have signed a long-term agreement which will see the sales, support, marketing and future product development of Clarion-branded marine audio products being handled by JL Audio in North America.
The new agreement comes into effect in the US and Canada on 1 October, 2018, with other international markets, including Australia, expected to follow suit soon after. In Australia, Clarion is currently distributed by BLA Distribution while JL Audio is handled by Navico.
Based in California, Clarion Corporation of America is a subsidiary of the Japanese Clarion Co. Ltd. Its core business is in the automotive market but it has also developed a range of marine receivers, speakers, amplifiers and accessories for use in the marine environment.
"Clarion entered the marine audio market in the early 1990s with purpose-built high performance products, and quickly achieved a lasting leadership position in brand recognition and sales," said Chris Honma, president of Clarion Corporation of America. "Given JL Audio's commitment to cultivating and marketing top quality audio products in the marine market, we expect this licensing agreement to generate a great deal of synergy in servicing our existing OEM and retail customers, while providing our brand the ability to extend its presence in the marine markets."
JL Audio is based in Florida where it manufactures products for the home, car and marine audio markets. The company has indicated that it intends to maintain the Clarion office in California and the two brands will continue to operate as separate entities.
"Our team is ready, willing and able to accept the stewardship of the Clarion brand for the markets covered by the agreement, and we are very excited about the scope of the opportunity this presents," said Andy Oxenhorn, president of JL Audio. "Clarion's brand strength, product offerings and reputation for quality will help us deliver even more value to our OEM and retail marine customers."