Marina leaders meet in Athens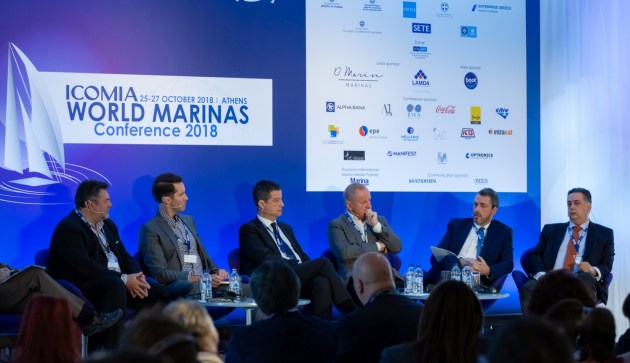 World Marinas Conference hears from international marina managers.
Over 400 delegates from 40 countries attended the recent ICOMIA World Marinas Conference hosted by the Greek Marinas Association in Athens.
Held for the 10th time, the conference covered a range of topics, speakers and events under theme of 'Cross Sea Challenge for Marinas – Setting the Scene for Collective Development and Growth'.
Hot topics at the conference included electric boat propulsion, solar piers, floating houses and floating infrastructures. There were also presentations on current issues such as security issues at ports and marinas, oil pollution crisis management, and marina marketing.
Other key themes included the impact of changing boat sizes and ownership patterns of marinas, the growth of shared ownership and its impact on perceptions, security and marina facilities, and the symbiotic relationship between boat owners, marinas and the environment.
The conference was also an opportunity for delegates to learn about new marina investments in Greece resulting from privatisation programs, urban waterfront rejuvenation projects and the increased importance of tourism. A full day of marina tours allowed delegates to witness first-hand the Greek marina market.
"Greek Marinas Association did a wonderful job as hosts of the World Marinas Conference," said Martinho Fortunato CMM, chair of the ICOMIA Marinas Group and CEO of Marlagos which owns Marina de Lagos, a 462 berth marina in Algarve, Portugal. "It was wonderful to meet fellow marina managers and investors from around the world, and the discussions were very insightful.
"The conference has provided many opportunities for in-depth discussion of key issues and future trends, and demonstrated that it is up to us as an industry to take a proactive approach in leading and facilitating change in our industry over time.
"This forum has provided each of us the opportunity to realise that our issues, challenges, opportunities and futures are shared across the globe. We have been inspired by the innovations and ideas presented. I look forward to discussing and learning about the global progress and visions of the industry at the next World Marinas Conference."