Marina development planned for Burnett Heads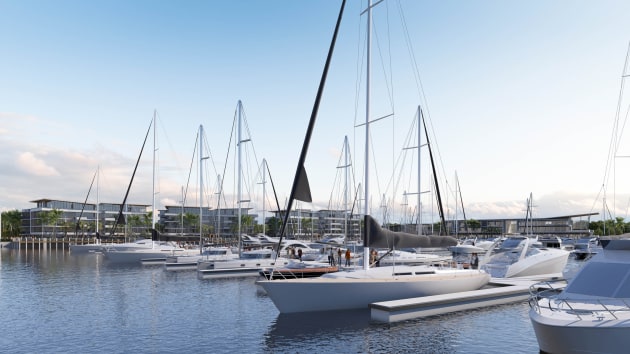 Expressions of interest sought for first 58 berths in new Queensland marina.
Sydney-based BH Developments QLD Pty Ltd (BHD) has lodged a development application with Bundaberg Regional Council for an integrated marina and resort project at Burnett Heads in Queensland.
The proposed new Gateway Marina development on the south western shore of the Burnett Heads Boat Harbour includes plans for a 318 berth marina with automated 24-hour fuel dock.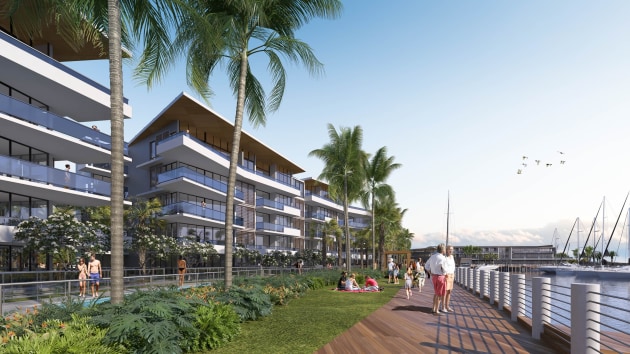 In addition to the marina, the planned development includes a mixed-use marina village offering short stay accommodation, boutique retail stores, cafes and restaurants, gymnasium, offices and yacht club. An adjacent residential precinct will feature low-rise apartments, waterfront villas and a hotel resort and convention centre with eco-villas all linked via a public waterfront boardwalk.
BHD managing director Simon Harvey said it was not hard to get excited at the opportunity.
"With marina projects, creating a safe, sheltered harbour usually becomes the responsibility of the developer. In this case, the harbour already existed, and the fact that it is in an idyllic setting surrounded by so many amazing and accessible attractions makes it the perfect location.
"The strong support we have received from the Bundaberg Regional Council and Gladstone Ports Corporation has also been very refreshing," he said.
Bundaberg Region Mayor Jack Dempsey said that if it is approved, the proposed development will draw more tourists to the area.
"The proposed Burnett Heads Boat Harbour Marina has potential to create hundreds of jobs for the local community, initially through construction, and ongoing across the retail, food and beverage and service sectors," he said.
"It's a further sign of growing private-sector confidence in the Bundaberg Region as an attractive place to live, work and invest."
Jason Pascoe of the Gladstone Ports Corporation (GPC) said the proposed development is in keeping with the broader master plan, land use vision and development consistent with planning schemes for the area.
"We are very excited to see this project back on the drawing board as it will deliver on transforming an underused resource of the region into a vibrant regional community providing much needed employment for Bundaberg," he said
Water-based development has already been approved at the site and harbour dredging is underway. Expressions of interest are being sought for the first 58 marina berths that will be designed to accommodate single and multi-hull vessels up to 27 metres and commercial vessels up to 32 metres.
"This is a considered, staged development and we want the community to share the journey with us," said Simon Harvey.
"As we move through the consent process for the land-based project we are launching an introductory expressions of interest campaign for the first 58 marina berths to be built in the first half of 2019 under an existing approval. Following consent for the land-based project we expect construction to commence immediately on the first of the commercial buildings."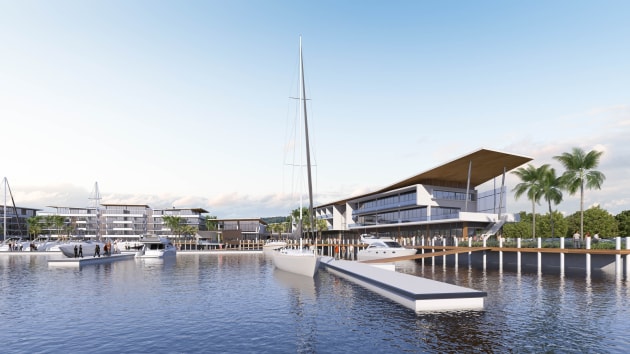 Operations manager Gary Milne said environmental considerations have played a big role throughout the planning process.
"We are committed to sustainable development through criteria of environmental education and information, environmental management, safety and water quality within the marina," he said.
"Gateway Marina will be created in line with criteria outlined by the Clean Marina Program with the Marina Industries Association which aligns with the internationally recognised ISO14001 Environmental Management Plan.
"Green technologies for power, rainwater harvesting, and use of recyclable and sustainable materials are all important considerations."
Announcement of the new Gateway Marina comes off the back of other recently announced initiatives designed to provide growth to Burnett Heads including the $35 million development of a marine industry site being undertaken by Pacific Tug and Bundaberg Regional Council and the $9 million Burnett Heads town centre redevelopment which is close to completion.
More information at www.gatewaymarina.com.au.