Mandurah gets double accreditation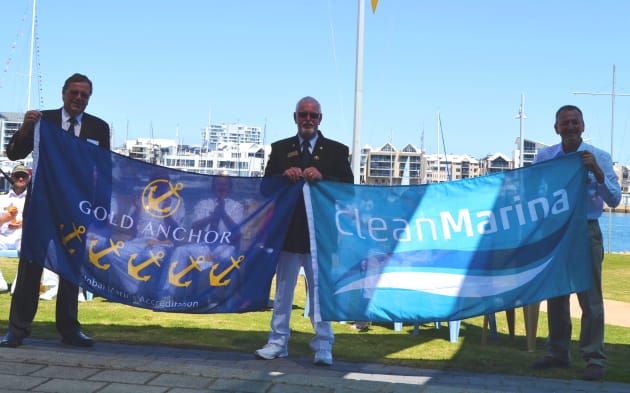 Clean Marina and Global Gold Anchor awards for WA marina.
Mandurah Offshore Fishing and Sailing Club (MOFSC) in Western Australia has been formally accredited as a Level 3 Clean Marina and as a five Gold Anchor marina under the new Global Gold Anchor scheme.
Located 70km south of Perth, the club includes a 220-pen floating marina with a 200m collector jetty, 123 hardstand bays along with launching ramps and wash-down bays.
Presenting the accreditation at the club's sailing season open day, MIA director Stuart Walton said: "The club's significant achievement is important as it demonstrates environmental leadership to the wider community. There are now six Clean Marina accredited facilities in Western Australia with a number of other marinas currently preparing for audits. In total there are 69 marinas across Australia and Asia committed to environmental best practice."
MOFSC also received its Gold Anchor accreditation at the same presentation.
"It is an honour to receive both accreditations today which focus on environmental and operational standards, excellent customer service and the quality in our facility," said Andrew Henshaw, general manager of MOFSC. "The accreditations reflect MOFSC's commitment to continually strive for best practice in membership and marina operations and recreational boating facilities."