Learn about corrosion at Perth seminar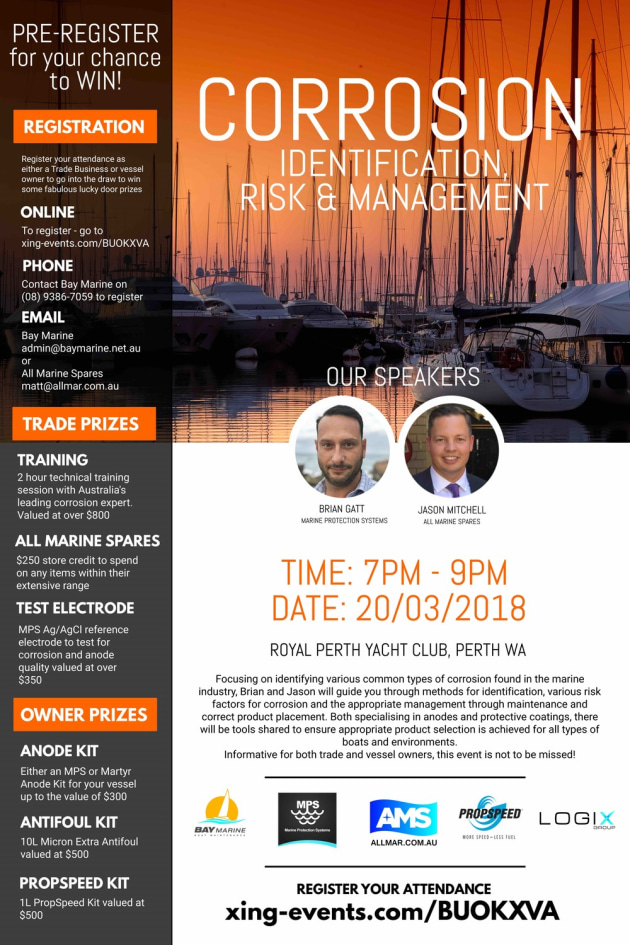 AMS and MPS team up for information session on corrosion management.
Marine businesses and vessel owners are invited to technical training session due to be held in Perth next week looking at various common types of corrosion and how to combat them.
The seminar is being hosted by Jason Mitchell from All Marine Spares and Brian Gatt from Marine Protection Systems, and will provide a guide to methods for identifying corrosion, the various risk factors and the appropriate management through maintenance and correct product placement.
Both speakers, who are specialists in anodes and protective coatings, will share tools to ensure appropriate product selection is achieved for all types of boats and environments. There will also be trade and owner prizes on offer to participants.
The seminar is planned as the first of a series of training sessions around the country at which AMS and Marine Protection Systems will seek to educate the boating industry about the benefits of the Maddox and Martyr Premium aluminium anodes.
The seminar is due to be held at Royal Perth Yacht Club from 7pm on Tuesday 20 March, 2018. More details are here.