John Deere powers on in April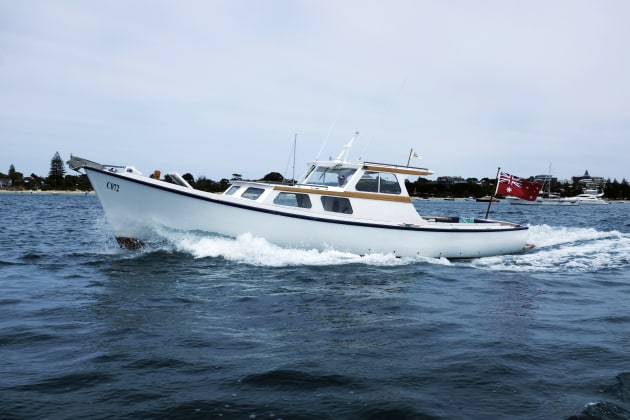 Classic launch cruising on Port Phillip with new John Deere engine.
A refurbishment of a classic wooden cabin cruiser by the Wooden Boat Shop in Victoria has seen the installation of a new 112kW John Deere PowerTech marine diesel engine supplied by Power Equipment.
Built in 1972 from Huon pine, April is an 11.2 metre long cabin cruiser with a 3.96 metre beam that displaces 9 tonnes. Co-owners Peter Osbourne, Curt Leonard and Rick Gilbert took her over in 2016 and loved her classic appearance, spacious interior and solid construction. However, given her age, they decided she needed a re-power and refurbishment.
This included a new deck, new gunwales, new steering and propshaft, the addition of a bow thruster, and a revamped cabin.
After its long service, the original 150hp engine had become a little unreliable for the busy shipping channels of Port Phillip, much less trips out through the Heads.
"We were always concerned about the size and weight of this boat so we were looking for a 150-160hp engine," said Gilbert.
"We found the compact John Deere 4045 would fit readily into the existing space and deliver the power we needed."
Power Equipment marine sales engineer Darren Bird consulted with April's owners and the Wooden Boat Shop about the benefits of the John Deere 4045 engine.
"These include fact that the John Deere 4050TFM50 is a commercially rated engine with long, 3,000-hour per year duty cycle and 250 hour service intervals," he said. "It also produces lower rpm and has more mid-range torque, so it is a quiet engine that delivers comfortable cruising."
With an M4 performance rating, the four-cylinder 4.5 litre turbocharged engine produces 112kW (150hp) at a rated speed of 2,600rpm. It is fitted with a reliable mechanical speed control, water-cooled exhaust manifold, internal balancers, and a lower rated speed. As a result, the owners of April say the boat's low noise levels now allow normal conversation in the cabin, which was not possible before.
Wooden Boat Shop shipwright general manger, Wayne Parr, said the John Deere engine is a good fit for the boat.
"It is a very nice engine and was the best option for the job, given its high horsepower and low rpm relative to the physical size of the engine.
"It is a quality piece of equipment and it has greatly reduced noise and vibration. We also installed a large diameter five-blade propeller. This means April can cruise at 8 knots with the engine cantering at only 1,800rpm and the prop turning at just 725rpm."
Wooden Boat Shop also modified the John Deere control panel to suit the boat's small dashboard.
According the Rick Gilbert, the new engine has already proved its worth out on the water.
"We had a really good run last year to the Portarlington Mussel Festival. We were coming back into a southerly. It was rough. Water was coming well over the bow and splashing on the windscreen, yet the boat felt almost like it was moored in a pen," he said.
"The engine didn't miss a beat doing 1,800rpm and 7 knots into that wind and 1.5-2m swells. There were six or seven of us on board and we felt very safe."