Indonesia gets first 5 Gold Anchor marina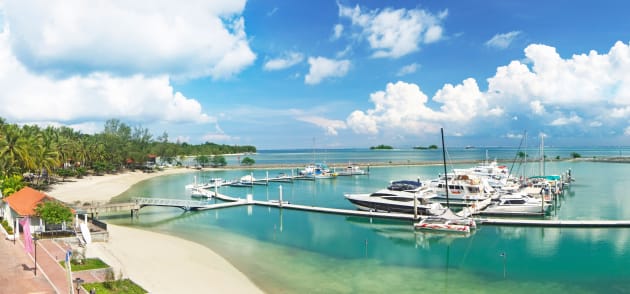 MIA awards highest rating to Nongsa Point Marina & Resort on Batam Island.
Nongsa Point Marina & Resort in Indonesia has become the first marina in Indonesia to achieve Global Gold Anchor accreditation with a rating of 5 Gold Anchors.
Located on the north-east of Batam Island, a 35 minute ferry ride away from Singapore's Tanah Merah Ferry Terminal, the beachside resort has a mix of hotel, chalet and apartment accommodations. The marina has 65 floating concrete berths including two berths for mega yachts up to 130 feet. Utilities available on-site include sewerage pump-out and fuel.
The Marina Industries Association (MIA) administers the accreditation scheme in the Asia Pacific region. MIA president Andrew Chapman congratulated Nongsa Point Marina & Resort on becoming Indonesia's first Gold Anchor Marina.
"This is a very significant milestone in the development of the recreational boating industry in Indonesia," he said.
"The country has enormous potential to tap into the global recreational boating market. Nongsa Point Resort & Marina provide the benchmark for marina development in Indonesia.
"The considered use of the Gold Anchor criteria by Nongsa Point Resort & Marina as a road map for improvement has been very successful."
Nongsa Point Marina & Resort's general manager, Erhard M. Rueber, said it was a great honour to achieve the accreditation and to lead the way for the maritime tourism industry in Indonesia.
"The Nongsa Resorts team members and I are very proud of our resort's achievement in obtaining 5 Gold Anchors. The very positive feedback provided by our marina guests that was part of our Gold Anchor assessment is testimony to the excellent service and facilities that we provide.
"With this accolade, we aim to continue establishing Nongsa as a prime recreational marine tourism and cruising destination in support of the Ministry of Tourism of Indonesia's aims to attract global tourists to Batam."
A formal Gold Anchor presentation ceremony will take place at the Nongsa Point Resort & Marina during October.