Incoming Exocets from Bar Crusher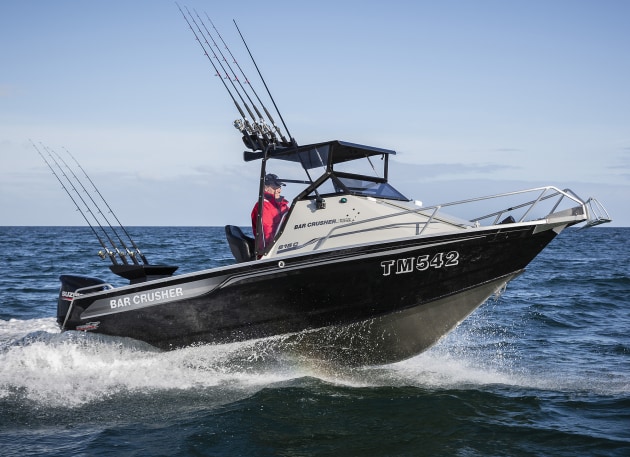 Aussie builder launches special edition boats named after French missile.
Australian plate aluminium boat builder Bar Crusher has launched its latest special edition series – called the Exocet – which was first unveiled at the Melbourne Boat Show earlier this year.
Anybody with memories of the 1980s Falklands conflict will be familiar with the name of the French-built 'flying fish' missile which was used by the Argentinian navy against Royal Navy warships.
The Bar Crusher version of the Exocet comes in two versions – the 615C Exocet and 670HT Exocet – and incorporate a range of extra features. These include a distinctive paint scheme (aircraft grey with gloss black transom, roof and hull sides and matte black painted helm), carpet-lined roof, cabin (lower section) and cockpit side pockets, welded uprights in side pockets for screw-in rod/gaff/tagpole storage, a new mini deluxe baitboard (615C Exocet), 15-inch black mag wheels and black painted mudguards on the trailer, and special edition graphics to identify the Exocet models.
The 615C model is rated to carry up to a 150hp outboard while the 670HT is rated for an 200hp outboard with fuel capacities of 140L and 190L respectively. Long-range fuel tanks also available. The 615C features a folding gas-strut roof (with side clears) while the 670HT has an all-weather hard top and toughened safety glass windscreen with slide-opening side windows.
Bar Crusher's previous special edition series, the Apache, was released in 2010.