IBEX show gets support from ICOMIA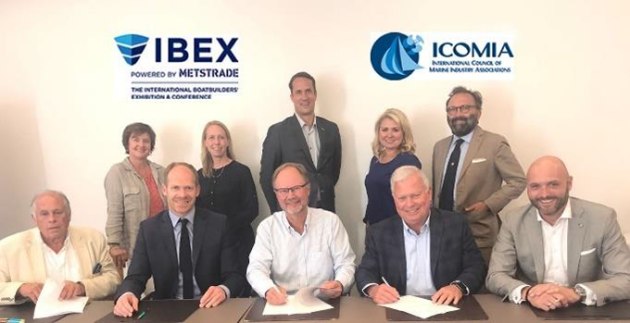 New agreement set to boost US trade show to international market.
The International Council of Marine Industry Associations (ICOMIA) has signed a collaboration agreement with the organisers of the IBEX show held in Florida in order to help boost the international profile of the US marine trade show.
IBEX is jointly owned by RAI Amsterdam, organisers of the METSTRADE show, and the National Marine Manufacturers Association (NMMA) in the US. It is a leading trade show for marine professionals in North America, similar to METSTRADE in Europe, and is regarded as an important fixture in the calendar of the North American marine industry.
The new agreement between the international trade association and the show is designed to raise the international standing of IBEX by facilitating increased participation by ICOMIA members as exhibitors, speakers and visitors.
"The ICOMIA-IBEX agreement brings many advantages, not least of which being that it opens up the possibility for MIAs from across the world to exhibit, giving smaller companies the opportunity to enter the US market," said ICOMIA president Jouko Huju.
ICOMIA and RAI Amsterdam have previously enjoyed a long-standing partnership in the organisation of the METSTRADE show.
"The longstanding partnership between ICOMIA and METSTRADE, which came into existence in 1991, has helped METSTRADE to become the global trade show it is now," said Irene Dros, maritime director at METSTRADE. "It's great news that ICOMIA and IBEX are joining forces and I'm sure that ICOMIA will strengthen IBEX's presence in the global leisure marine industry only further."
Anne Dunbar, IBEX show director, said the show is honoured to welcome ICOMIA as a new global partner.
"Working together with ICOMIA and aligned with our partner owners, RAI Amsterdam and NMMA, IBEX will support the expanding global marine industry and combine our efforts to ensure the continued success of the boating industry and the public's ability to enjoy boating at all levels in a clean environment."
IBEX 2018 will run from 2-4 October in The Tampa Convention Centre, Florida.