Hurricane brings in more power cats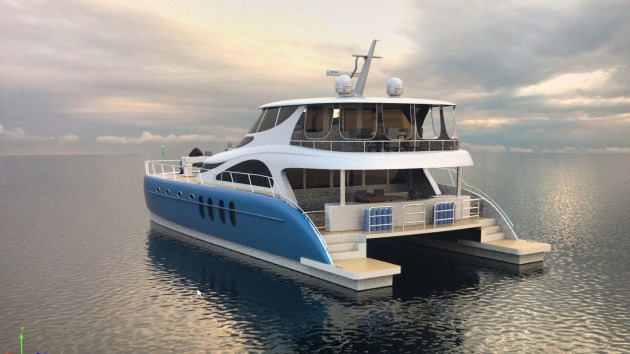 James Dewing-designed Powerplay Catamarans added to Hurricane Australia line-up.
Local pontoon boat agent, Hurricane Australia, is expanding into the power catamaran market with the addition of the Australian-designed, Thai-built Powerplay brand.
The brand was established in Townsville in 2000 by award-winning boat builder and designer, James Dewing, who has more than 40 years' experience across commercial and recreational sectors in Asia, Europe, Australia, New Zealand, the Caribbean and the US.
"In my 40 years as a boat builder, from designing and building all types of vessels, I came to the conclusion that the happiest boaters had catamarans," he said.
"At my shipyard, Townsville Slipways, I serviced and repaired more than 200 boats a year from normal annual maintenance to full refits and repairs. In north Queensland, Barrier Reef country is a boating paradise with many secluded and out of the way places reserved for the privileged few to enjoy nature's extreme beauty.
"A power cat will get you further, faster, with power to play."
Dewing said his designs are based on input from loyal owners and operators.
"Many years ago, I received an order for large power cat with the inclusion of an aft fishing deck. The design brief was 'Where are we going to put the game chair?' and 'Can I go faster? I want 28 knots'. That's how the curved transom came about, to fit the Pompanette game fishing chair. That vessel, Powerplay 3, is still chartering in the Dominican Republic, catching big fish."
Currently under construction at the Powerplay factory in Pattaya is a new 65 G4 model destined for Tahiti, and a 52 in full survey which will enter the charter fleet . A new high performance Powerplay is currently in development. Developed with Icarus Marine and Volvo IPS Engineering, the foil-assisted PP65 G4 is expected to achieve a 43-45 knot performance.
Having visited the Powerplay facility, Hurricane Boats Australia director, Brett Flanagan, said he is confident the Australian market will be quick to take up Powerplay's Gen 4 range of catamarans.
"There's nothing like them on the market," he said. "Big, flybridge power cats with jacuzzis and all the extras as standard.
"For example, the master stateroom is forward of the saloon and takes up the whole front of the boat, wrapped in glass for fantastic views.
"Powerplay are brilliantly built, semi-custom power cats that deliver more volume, range and higher speeds for your dollar.
"Being composite construction to CE class one offshore certification as standard, they are lightweight and balanced, stable and travel through the water like a dart."
"There is a model for every type of use and they are super competitively priced. The 65 will have an introductory price of $2.5 million, which for a 20m multihull that is head and shoulders above anything in its class is exceptional value."
Build time is estimated at around 14 months.
For more information, visit the website.