Home and dry in Darwin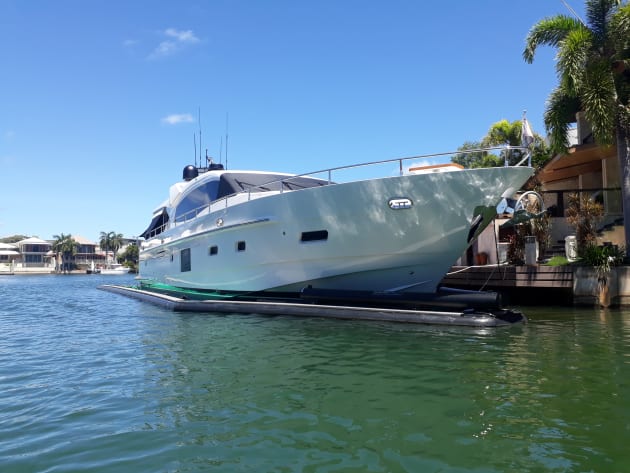 A SeaPen dry dock in Darwin recently proved its worth in an emergency.
The use of dry dock boat storage systems offers a number of environmental benefits, not least the fact that keeping a boat out of the water reduces the need to anti-foul the hull on a regular basis. Keeping the hull clean ensures the boat always operates at optimum efficiency, reducing fuel consumption and improving the on-water performance.
While dry dock systems such as the SeaPen from Dockpro are a familiar sight with smaller recreational boats, they can also be used just as effectively with larger cruisers. One of the largest SeaPen installations is a Whitehaven 7500 Sports Yacht, a 23-metre boat moored at Darwin. Owner Ray David is a firm believer in the value of using one. This is his second SeaPen installation and the previous one also over 20 metres.
"We have a coral worm problem in Darwin and the SeaPen protects against that. It was the main reason we did it. Lifting is complex and expensive," he said.
There are no boat lifts in the Darwin area capable of lifting the 7500 so pulling it out of the water is a major operation. The SeaPen eliminates the need for anti-fouling and means the boat is always available for use.
David said there are now a number of larger SeaPens in use in Darwin including several catamarans over 20 metres. One of the features he likes about the system is that, on returning from a trip, as soon as he comes within mobile coverage range, he can use the remote control to open the SeaPen ready for immediate docking.
Recently too he discovered another significant advantage of the SeaPen after a trip to the Kimberley region where the boat struck a reef. Having sustained serious damage to the hull, he eventually made it back to Darwin and docked the boat in the SeaPen. With the water drained out, he was then able to turn off the pumps until repairs could be arranged.
"Within eight hours, everything was dry," he said. "If we didn't have the SeaPen, we would have had to run the pumps for a week."
Although not a common situation, it's another example of the value of the SeaPen when it comes to protecting larger vessels.
"I would recommend them to anyone," said David.
This article was first published in the June-July 2017 issue of Marine Business magazine.