Gold Coast gets customs post for foreign vessels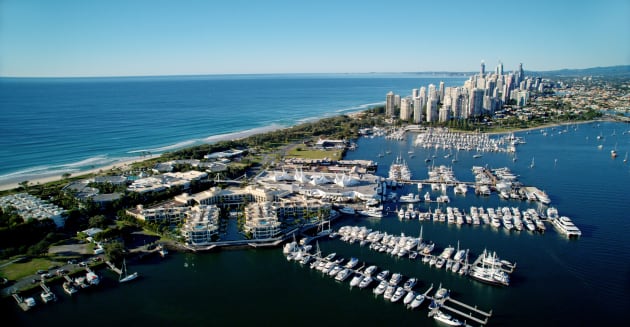 Pilot program set to boost superyacht access during Commonwealth Games.
The Federal government is setting up a customs post at Southport Yacht Club on the Gold Coast which will act as a dedicated arrivals and departure station during next year's Commonwealth Games.
The customs post will operate as part of a 12 month pilot program which will assess the viability of having a permanent boarding station on the site. The Minister for Immigration and Border Protection Peter Dutton said the pilot program will provide inwards and outwards clearance for vessels and their crew and may encourage additional vessel traffic to the area.
"The boarding station will be active from 1 July this year until 30 June 2018, which will allow us to support the 2018 Commonwealth Games and to assess the potential for a permanent boarding station in the future," he said.
"Australian Border Force and Biosecurity officers will clear foreign vessels of less than 50 metres length at the boarding station, which will be located at the Southport Yacht Club.
"By establishing a boarding station on the Gold Coast, we are expanding our border protection coverage of south east Queensland and supporting local marine and tourism industries."
Federal Member for Moncrieff and Minister for Trade, Tourism and Investment Steven Ciobo said the setting up of the customs post is "a coup for the city".
"This is yet another way we're growing our city's booming tourism industry by enticing more domestic and international tourists to the Gold Coast, including superyachts," he said.
"Having the ability to welcome these vessels to Southport Yacht Club rather than having to go into Moreton Bay means more people visiting the city, more growth in our local economy and more jobs in our thriving tourism industry."
Similar customs clearance facilities are already operating in the region at Brisbane, Bundaberg and Coffs Harbour.
"It is a great step forward for our industry and timely as well," said Trenton Gay, CEO of Gold Coast City Marina and Shipyard, who has long campaigned for a dedicated customs post on the Gold Coast. "It will consolidate our position as a superyacht hub by allowing more yachts and their tourism revenue to flow into our local economy in the lead up to next year's games.
"This is in addition to the $410million the marine industry in south east Queensland already pumps into the national economy."