Gold Coast Expo canned for 2018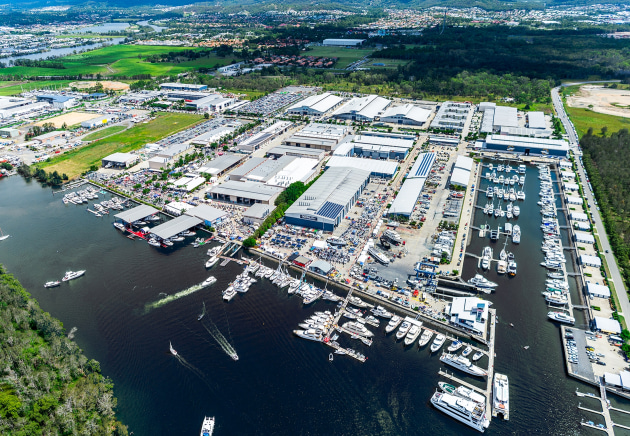 Busy boatyard cited as reason to halt Coomera boat show.
After seven years, the organisers of the Gold Coast International Boat Show and Marine Expo have announced the show will no longer be staged. The last show was held in March earlier this year.
In a statement to exhibitors, the organisers cite the "escalating demand for new boats, shipyard re-fit, maintenance and repair works coupled with the inability to expand the current footprint of the burgeoning event" as reasons why the show has been cancelled.
"After lengthy consideration, the committee has reluctantly reached this decision, especially following the success of our 2017 show for both our valued boating enthusiast visitors and exhibitors," said Emma Brown, event and marketing manager.
"The boat building factories at the Gold Coast Marine Precinct in Coomera are now bustling as a result of new boat sales and the hardstands and re-fit sheds are a hive of activity. Available space within the current site, together with the impact of the show on businesses in the precinct has become a significant consideration."
The expo was originally started in 2011 as a means of showcasing the boat manufacturing facilities at the Coomera precinct. In the first few years it was held towards the end of the year in October or November but in 2015 the show controversially switched its dates to coincide with the Sanctuary Cove International Boat Show in May.
This year, after pressure from industry suppliers and the intervention of the Boating Industry Association, the expo moved to March with organisers reporting attendance figures of 23,000 visitors over the three days.
A unique aspect of the show was the staging of the event in the heart of the largest boat manufacturing facilities in the country, offering visitors the combination of a retail exhibition with the opportunity to see behind the scenes of the boatyard.
"The show helped to cement the Gold Coast Marine Precinct at Coomera as the boating industry capital of Australia," said Brown. "It is the only boat show to be held in the biggest shipyards and boat factories in the country, showcasing the marine industry in a truly unique and memorable way and assisted in creating exceptional sales for exhibitors over the past seven years.
"We would like to take this opportunity to publicly and sincerely thank all of our great supporters over the past seven years – our enthusiastic visitors, loyal exhibitors, steadfast event partners, stable suppliers and the generous land holders who have all given and contributed so much to the success of our show."