Get your entries in for 2017 AMI Awards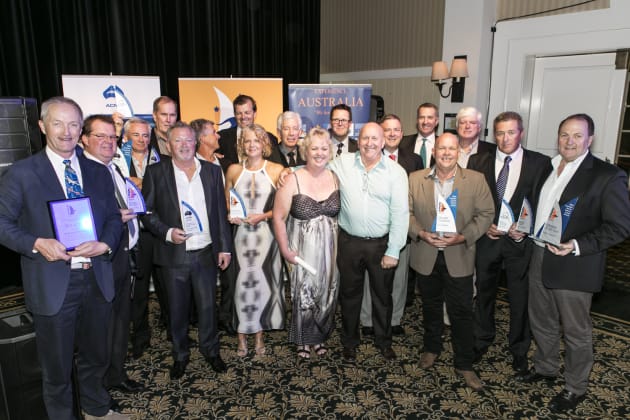 Entries now open for Australian Marine Industry Awards for 2017.
Entries for the 2017 Australian Marine Industry Awards are now being sought with the winners being announced at the Industry Gala Dinner on the evening of Tuesday 23 May 2017, during the ASMEX 2017 Conference.
"The Awards provide entrants with the opportunity to be recognised for innovation, achievements and contributions to the Australian export, superyacht and commercial marine industries," said MaryAnne Edwards, CEO of AIMEX-Superyacht Australia. "Entrants receive publicity and media exposure for their business products and services and are positioned as inspirational leaders in creating positive change and innovation in the industry.
"Participation is an excellent team motivator, and great means of establishing networks with past winners and entrants, all of whom have high-calibre international contacts and the will to work as a collaborative Australian team."
Carl Amor, co-director of specialist lighting manufacturer, Aqualuma, which won the 2016 Export Champion award, said his brand and business have benefited immensely from the recognition that comes with winning and from the exercise of entering.
"Our customers see it as recognition by industry and our peers of achievements in the global marine sector," he said. "If you are looking at chasing export markets, taking part in the Awards adds credibility. The process in itself is worthwhile for businesses, who can use the entry as a clarification of business plans, target markets, growth and marketing strategies.
"Some people may think their business is too small or niche, but this year, there was a real diversity and breadth of entries," Amor continued. "You have to be in it to win it, as they say. We recommend entering the Awards for the benefit of your business – and winning is a bonus!"
AMI Award categories include:
Most Innovative Marine Industry Exported Product or Service
Best Marine Industry Export Marketing Strategy
Best Marine Industry Export Performance
Superyacht Industry Business of the Year – Service Provider
Superyacht Industry Business of the Year – Manufacturer
Commercial Marine Manufacturer of the Year
Most Innovative Marine Industry Commercial Product or Service.
The 2017 judging panel comprises: Ken Evans (Chair judge), Barry Jenkins, John Zammit, Joe Akacich, Deo Chand, and Steve Mitchell. Application forms for the 2017 awards can be downloaded from the respective websites for the Export category, Superyacht category and Commercial category. Entries close on Friday 24 March 2017 at 5pm AEST.