GCCM enters Marina of the Year Hall of Fame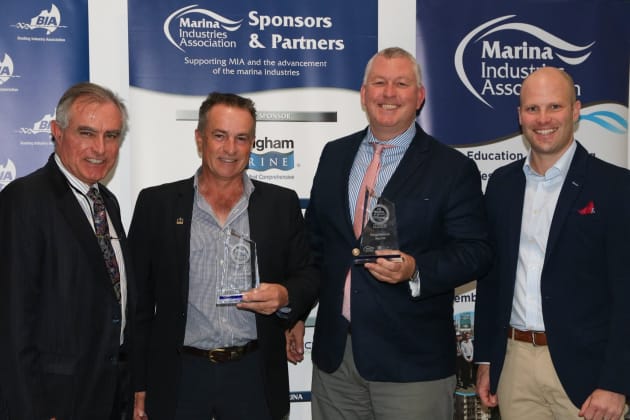 Gold Coast boatyard takes home multiple awards at gala night.
It was a big night for Trenton Gay and the Gold Coast City Marina (GCCM) at the Club Marine Marina of the Year Awards held last night as part of the Marine17 conference. At a gala dinner in front of 340 industry peers, Gay was recognised for his individual outstanding contribution to the industry while GCCM entered the 'Hall of Fame' reserved for marinas which win multiple Marina of the Year awards. GCCM is the first facility to achieve the accolade in the boatyard category.
"We are delighted and humbled to be recognised," said Trenton Gay who, as owner and CEO of GCCM, has been a tireless advocate for growing the superyacht sector in Queensland. "This award acknowledges all the hard work and dedication of not only the whole GCCM team but also our tenants.
"We are grateful for the support we receive from our customers and, of course, the MIA. In the end, it's all about the customer, listening to what they want and striving to exceed their expectations through a process of continuing improvement. This award further motivates us to stay on the top of our game."
GCCM also took home the award for Best Environmental Initiative by a marina for its many environmental programs onsite including water recycling, treatment and rainwater capture as well as its use of solar power. The site recently received a 100% perfect score on its Clean Marina audit.
Rounding out the night, Steve Sammes, GCCM general manager, picked up the People's Choice award for best marina employee.
MIA president, Andrew Chapman, said the association strives to support and encourage marinas to deliver exceptional facilities and service for the benefit of the boating public and the broader community.
"Gold Coast City Marina and Shipyard has consistently demonstrated this commitment to excellence and it is fitting it is the first facility to be inducted into the Hall of Fame for the boatyard category. We hope that this recognition motivates other boatyards to embark on a similar journey," he said.
Other big winners on the night included:
Best Dry Stack Facility: d'Albora Marinas Pier 35
Best Commercial Marina, under 140 boats: The Reef Marina, Port Douglas
Best Innovation and Best Commercial Marina, more than 140: Abell Point Marina
Best International Marina and Best Community Support Initiative: Port Denarau Marina, Fiji
Best Boat Yard, up to 20 boats: White Bay 6 Marina Park
Best Boat Yard, more than 20 boats: Rivergate Marina and Shipyard
Best Public Boat Harbour: Fremantle Fishing Boat Harbour, WA
Club of the Year: Royal Prince Alfred Yacht Club
Best Marina Restaurant: d'Albora Marinas The Spit - Ormeggio at The Spit