Galeon set to launch at SCIBS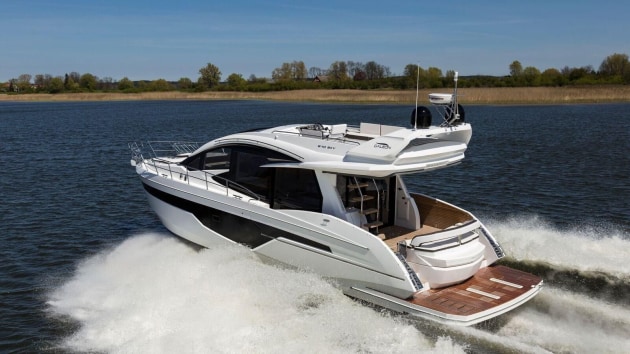 Polish-built motor yachts will make local debut in May with two models.
The Polish-made brand of power boats, Galeon Motor Yachts, is set to make its local debut at this year's Sanctuary Cove International Boat Show (SCIBS) with the introduction of two models from the range, the Galeon 460 Fly and 510 Skydeck.
The brand is being introduced locally by Alexander Marine Australia, part of the global Alexander Marine group and the local dealer for Ocean Alexander which also made its debut at SCIBS last year.
Galeon Motor Yachts has been operating since 1982 having originally started in a small facility in Straszyn outside Gdansk, Poland, used to make sailboats for Beneteau and Jeanneau. It is now one of Poland's largest motor yacht builders with an output of 100 vessels a year.
The Galeon range encompasses models from 30 to 78 feet. At last year's Cannes Yachting Festival, the Galeon 640 Fly picked up a World Yacht Trophy as the 'Most Innovative Yacht' in the 60-80 feet category, while the 640 Fly and 650 Skydeck models also took out the top prize in the 'Innovative Onboard Design Solution' category at the Boat Builder Awards during last year's METSTRADE show, awarded for their "brilliantly social layouts with opening forward doors".
"We are looking forward to introducing the Galeon 460 Fly and 510 Skydeck models to the Australian and NZ market this season," said Todd Holzapfel, Alexander Marine Australia dealer principal. "People will be amazed by the Australian-first innovative design features such as aft side fold out balconies and the glazing systems as featured on board each vessel.
"Galeon motor yachts are totally unique thanks to the design input of internationally-regarded naval architects and a talented design team. Galeon consists of over 1,400 skilled people who pride themselves on impeccable craftsmanship at every stage of production.
"We're sure the Australian and NZ boating public will be just as impressed with Galeon range as we are when these first new models arrive on our shores."
Powered by twin Volvo Penta shaft driven D8-600hp engines, the Galeon 460 Fly is priced at $1,799,000 (including GST) while the Galeon 510 Skydeck, driven by twin Volvo Penta shaft driven D11-725hp engines, is priced at $1,999,000 (including GST). Both models can also be Volvo IPS powered.