Fusion celebrates 10 years of marine entertainment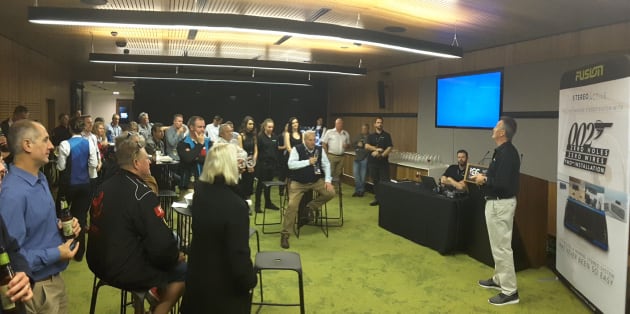 Audio specialists unveil new marketing strategy for StereoActive system.
Marine audio specialists, Fusion Entertainment, hosted a celebration at the Sydney International Boat Show to mark 10 years in the marine industry during which time it has become the leading manufacturer and supplier of marine audio systems.
Chris Baird, Fusion Entertainment managing director, hosted the celebration which had a 'James Bond' theme complete with vodka martinis (poured not shaken) and gaming tables.
The company also presented awards to leading OEMs and retailers including boat builder Riviera and retailer Australian Marine Wholesale.
Baird also announced a new marketing strategy for the StereoActive portable audio system. Previously targeted at the paddle board market, the company is now promoting the system as an easy-to-install marine audio system for boats which do not have a fixed system installed.
The campaign highlights the fact that the unit requires zero holes to be drilled, zero wires to be connected and can be installed in two minutes – hence 002 and the Bond theme.
StereoActive recently won the Gear of the Year award in the technology category at the Outdoor Retailer show in Salt Lake City, Utah, the largest outdoor retail exhibition of its kind.