Fury boats prefer Mercury outboards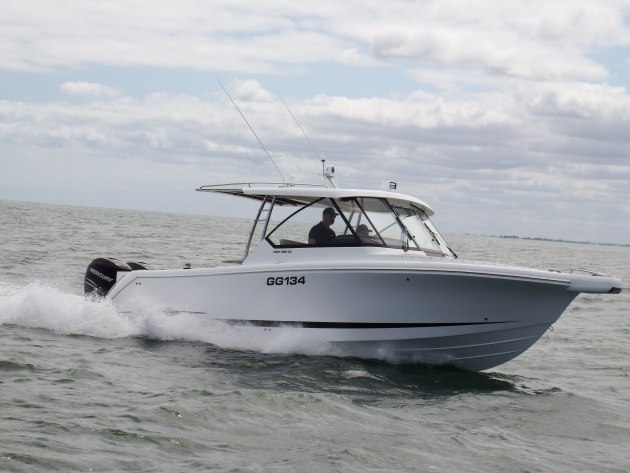 WA custom boat builder switches to twin Verado outboards.
WA-based boat builder, Fury Custom Boats, is now offering its Fury 282 Dual Console model fitted with twin 225hp Mercury Verado outboards. It was previously offered with twin Yamaha motors.
"Having experienced the difference, the 225 Verados are now definitely our preferred motors on this boat," said Fury Custom Boats owner/director, Scott Fury. "With the Verados, the boat sits perfectly in the water. The trim's better so we get improved performance."
Fury said the 9.1 metre long boat, which weighs about 3.8 tonnes, now also moves faster.
"Testing with the Verados we hit 46 knots at 6,400 revs which is better than it's ever done," he said.
At 3,000rpm the engines use about 40 litres an hour delivering a range of 460 kilometres. The Verados also provide more space between the engines and the transom as well as easier access through the transom door to the swim ladder. Fury said that feedback from the boat's owner had been positive.
"He's very happy," he said. "The engines are quiet and smooth, they perform really well and he's thrilled with all the extra room they provide in the fishing area."
The change of engines has also made a difference at the helm, said Fury.
"The boat has Simrad displays and the way the engine information is shown is impressive. I think the throttle arrangement is great as well, with one lever controlling both engines means driving the boat is that much easier.
"As I said, ultimately it's up to the owner which engines are used but I'm going to be recommending the Verados certainly."
The Fury 282 Dual Console, one of three models offered by the builder, is crossover design combining bow seats, enclosed helm with fishing area, toilet and galley.