Freedom to go boating with Sailability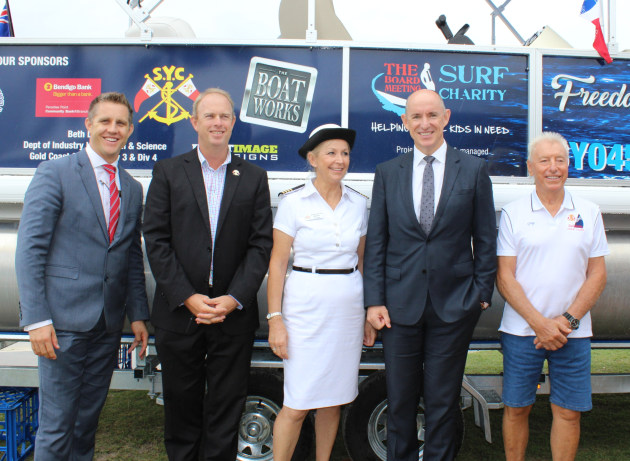 Boating charity launches new pontoon boat for Gold Coast cruises.
Sailability Gold Coast recently celebrated the launch of its latest vessel, a 20ft pontoon boat aptly named Freedom, which has been designed and built to enable disabled people to enjoy time out on the water.
Based at the Southport Yacht Club (SYC) base at Hollywell, Freedom joins the Sailability fleet comprising two yachts, Hope and Spirit, a smaller Clipper yacht, 14 solo dinghies and two two-seaters. It will replace a 1960s, 5.5m Savage power boat known as The African Queen.
Custom-built by Runaway Bay Pontoon Boats, the twin hull Freedom is designed for wheelchair access and can accommodate up to three clients in wheelchairs, with enough room for 10 people in total. It is powered by a Honda 80hp engine.
Greg Wright, vice president of Sailability Gold Coast, said the new vessel is ideal for people who prefer the stability of a pontoon boat as opposed to the lean and movement of traditional sailing vessels.
"Our mission is to provide 'Freedom on the water, regardless of ability'," he said. "The new boat Freedom is ideal for our clients who want to get out on the Broadwater and cruise the canals of the Gold Coast in complete comfort and safety.
"The idea for the boat was prompted by the fact that our current power boat, The African Queen, is not easy to step down into for even the able bodied and it was felt that an easier vessel to board would make a boating experience more appealing to a wider group of people.
"Freedom will take clients on 45-minute cruises on the Broadwater and canals, sight-seeing, enjoying the views and the marine life, the wind and sea spray – which most of us take for granted."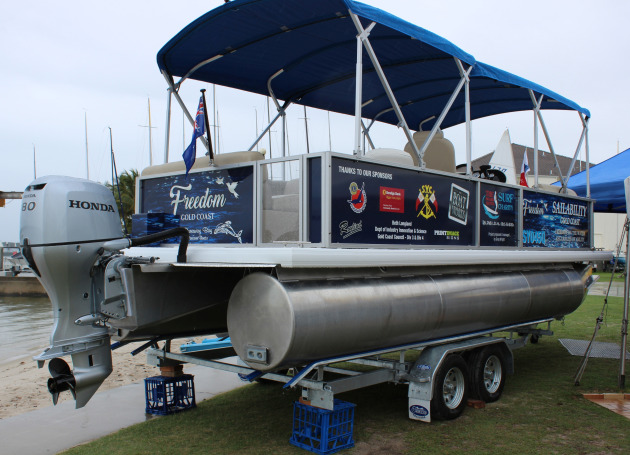 Gold Coast Sailability is sponsored by local boatyard The Boat Works which has supported its activities financially and with the donation of professional services.
"We are very grateful to The Boat Works for its donations, which previously have allowed us to expand our club facilities and resources," said Wright. "This year, our boats have benefited from the expertise and labour from the tenants at The Boat Works, such as Print Image Designs who have wrapped the exterior of Freedom in time for its official launch on March 6."
Shane Subichin, general manager at The Boat Works, said they were thrilled to help Sailability Gold Coast in its aims of introducing the disabled to boating, sharing their passion for the water.
"Boating is a big part of my life and all the team and tenants here. It's very satisfying to know our tenants' skills and our facilities help Sailability use their boats to provide access to the water for so many people, who otherwise would not experience how uplifting a day on the water can be.
"Freedom is a beautiful looking boat and quite unique. It will be a wonderful addition to their fleet. We are proud to see her and know hundreds of people will be able to enjoy boating now, many of them for the first time."