Fastmount cushion clip nominated for DAME award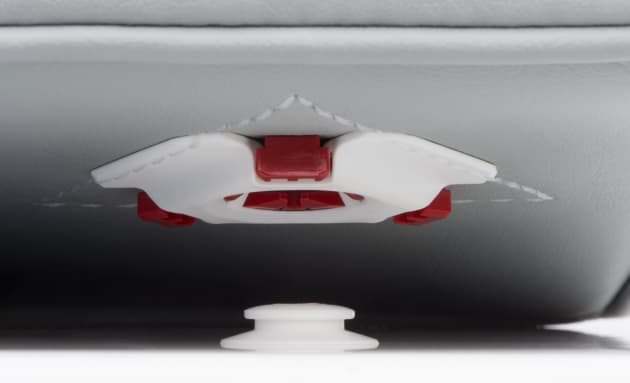 Fastening clip from New Zealand gets the nod from design award jury.
New Zealand company, Fastmount, has announced that its new TC-06 Textile Range clip set has been nominated for the prestigious DAME Design Awards.
The TC-06 Textile Range clip set is designed for mounting interior and exterior cushions on superyachts, enabling crews to easily remove and replace cushions to exactly the same position every time. It is designed as an alternative to current cushion-fastening methods such as hook and loop tape or metal domes. Since its launch, several of the largest superyacht yards in Europe have started incorporating the clip into new builds and refit work.
"We are very proud that the TC-06 Textile Range has been nominated for the DAME Design Award, having been nominated in 2007 for the PanelSafe Panel Restraint system and in 2013 for the Metal Range," said Gregg Kelly, managing director of Fastmount. "It's fantastic to have our efforts in innovation recognised."
Fastmount was set up 12 years ago to design and manufacture hidden panel mounting systems for the marine, architectural, aviation and vehicle industries. Currently the Fastmount Panel Mounting System is used in boatyards in more than 50 countries worldwide.
This year the DAME Design Awards attracted 117 entries from 26 countries with a total of 67 products being nominated for final judging. The awards are presented in seven categories (the Fastmount clip was nominated in the interior equipment, furnishings, materials and electrical fittings used in cabins category) from which one of the seven winners will be chosen as the overall winner for 2016.
The TC-06 Textile Range clip set will be on display at the DAME Design Award Presentation in the InnovationLAB in Hall 6 at METSTRADE from 15-17 November, as well as at the Fastmount exhibition stand 02.224 in the New Zealand Pavilion.