Exhibitors report increased sales at Auckland show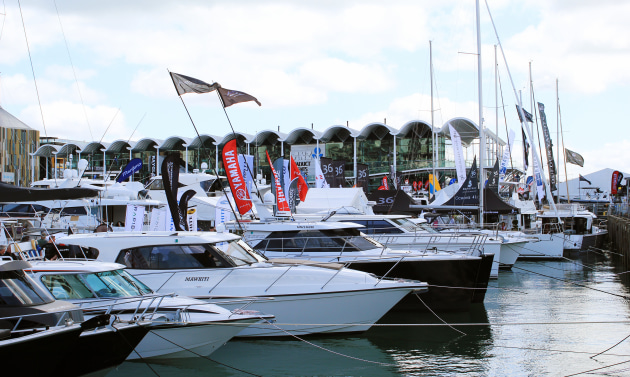 America's Cup interest buoys New Zealand boating market.
Exhibitors at the 2017 Auckland On Water Boat Show which ran over the first weekend in October reported strong sales and a buoyant industry outlook off the back of the event.
Organisers said the drawcard at this year's show was the presence of the America's Cup and the Volvo Ocean Race trophy, with the coming events set to give an extra impetus to the local marine industry.
"The feedback we got from exhibitors was that customers were positive and ready to buy, and that the America's Cup win had strengthened interest in sailing and getting out on the water," said Stacey Cook, boat show manager.
Repeat exhibitors reported increased sales figures when comparing their year-on-year sales.
"We received a record number of deposits for brand new Tristram packages at this year's boat show, for delivery in 2018," said Kingsley Fink, Tristram Marine general manager. "The weather was brilliant for the majority of the show, and boat show visitors enjoyed viewing the filming boats and chatting to the team from Big Angry Fish TV on the Tristram stand."
Whangaparaoa's Gulfland Marine was also enthusiastic about the willingness of consumers to purchase goods.
"I had to run around looking for a fire extinguisher, as sales and positivity of customers were on fire," said general manager Craig Lewis.
Amphibious RIBs manufacturer Sealegs International Limited said it achieved its most successful show to date and, despite some inclement weather over the weekend, the company reported a record event from its floating display - Sealegs Island. Sales of craft displayed at the show, together with new forward orders, exceeded more than NZ$2 million, with orders coming from New Zealand, Australia and North America.
"Sealegs has cemented itself as iconically Kiwi, and now other countries are showing the same confidence in our amphibious technology New Zealanders have for some time," said Sealegs CEO, David McKee Wright.
The company had six vessels on display over the weekend including the new 7.7m Sport D-Tube and Interceptor 9000 with Hydrasol technology.
In addition to the displays of on-water vessels, the show also featured a number of seminars, inboard and outboard engines, solar technology, electronics, navigational and safety devices, fishing equipment, kayaks and other watersports equipment.
Dates for next year's Auckland On Water Boat Show have not yet been finalised.