Dry storage gets a lift at d'Albora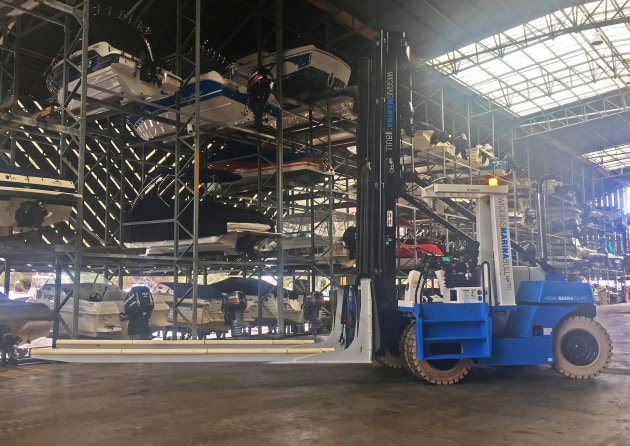 Two new forklifts added to dry storage facilities in NSW and Victoria.
Marina group d'Albora Marinas is upgrading its dry storage capabilities at its Akuna Bay and Pier 35 facilities with the addition of two new Wiggins Marina Bull forklifts. The two sites have a combined total of over 450 dry storage berths.
At Akuna Bay north of Sydney, the company has added a W1.3 Marina Bull forklift, the heaviest lifting forklift of its class and size in the country. It is capable of lifting a 4.5 tonne 8m long vessel and can turn in a radius under 13m. The new Wiggins will also be supported by a second recently upgraded machine.
For Pier 35 in Melbourne, a larger W3.2 Marina Bull will be on site in early November 2018, capable of lifting vessels up to 10 tonne and 11m in length. According to the company, the W3.2 will further add to the Pier 35 services and capabilities by maintaining full redundancy and ensuring the dry storage services can be relied on throughout the peak periods.
"These are exciting times for d'Albora's dry storage facilities at Akuna Bay NSW and Pier 35 Victoria." said Suzanne Davies, CEO d'Albora Marinas. "The decision to purchase Wiggins was driven by their reputation for solid engineering and reliability.
"The demands on these machines can be extremely high in peak summer periods so dependability is crucial to ensuring our customers' vessels are smoothly and safely launched and retrieved."
The d'Albora marina group was acquired by Sydney-based finance company Balmain Corporation last year, creating the largest single marina operator in Australia.
According to the company, the investment in new forklifts represents the first stage in a $50 million capital works/expansion program across all the marinas including rebuilds of aging maritime facilities at Akuna Bay, Rushcutters Bay and Nelson Bay in NSW.