Doyle NZ takes over the world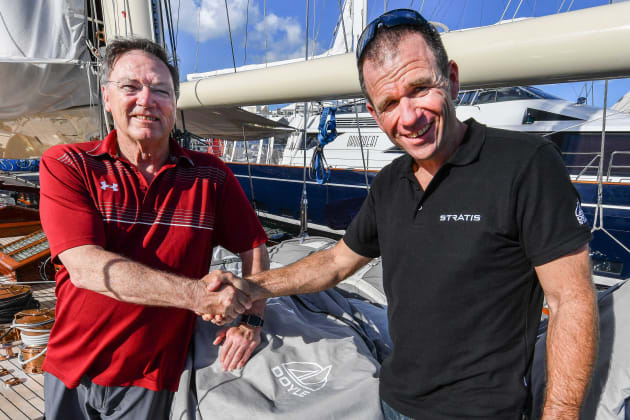 Doyle Sails New Zealand management team buys out Doyle International.
The management team at Doyle Sails in New Zealand is taking on the running of the global company brand with ownership of Doyle International as well as a controlling interest in the Doyle Salem loft in the US and Doyle Sails Europe (UK). The changes will be effective from 1 July, 2017.
The management team, led by CEO Mike Sanderson along with MD David Duff and director of design Richard Bouzaid, took charge of Doyle Sails New Zealand in September last year. The group says the time is now right for "a more unified global one-brand approach".
"We are a group of like-minded, passionate individuals and we are looking to maximise the potential of the Doyle Group and the individuals within it," said Mike Sanderson.
"Our sport and marketplace is going through exciting and fast-paced change and we are in a perfect position to build on the strong foundation of the Doyle brand whilst moving forward in a new direction to meet the changing needs of our customers.
"Today's announcement marks the start of a new era, this new strategic direction has been under development for some time and we are all very excited about the potential ahead of us."
The founder of Doyle Sails, Robbie Doyle, will continue with the company with a focus on managing superyacht and special projects.
"I founded Doyle Sails back in 1982 and since then it has grown to 80 lofts around the world," said Doyle.
"Design and performance have always been our strengths but above all else it is the people behind the brand that have made it a success. I have been working closely with Mike Sanderson and the team at Doyle Sails New Zealand for some years now and I feel certain that we have the right team to grow and develop the Doyle brand - the future is exciting!"
As part of the new ownership structure, Jez Fanstone will take on a new role as corporate manager at Doyle International while Terry Nicholas is the new business development/CFO. Together the pair will manage the Doyle International brand.
Fanstone is a past Volvo Ocean Race skipper, sailmaker, Olympic coach and team director while Nicholas is a chartered accountant and business development specialist who has acted as group CFO for Doyle Sails NZ during its transformation over the last five years.